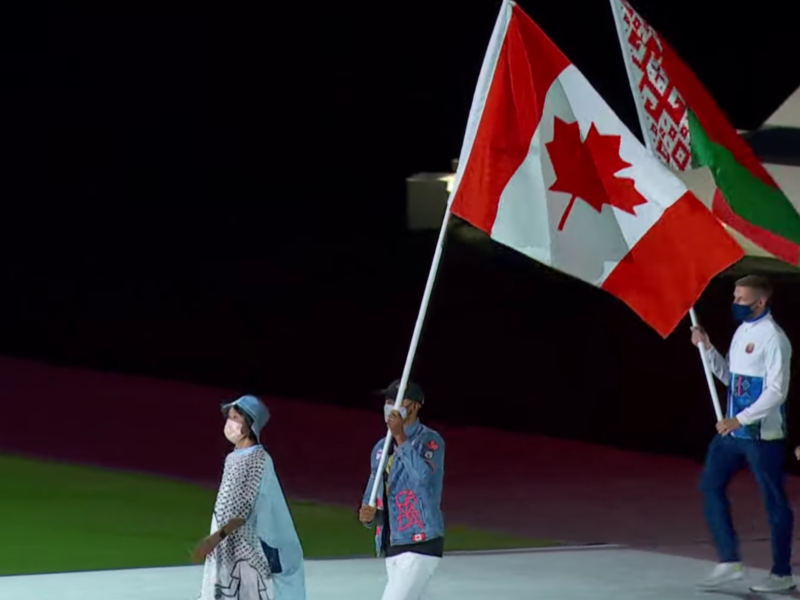 TOKYO – The Olympics' closing ceremonies were interrupted by Canada's confident new anthem, which announced itself with sirens and airhorns.
After a hype man shouted "O fuck, y'all, here comes Canada!" the anthem launched into a detailed breakdown of the nation's athletic accomplishments, beginning with "What up, bitches, we won gold in whatever the decathlon is! Whoo!"
"Then we kicked America's ass in soccer!" the anthem continued over a swelling string quartet. "And, let's see, oh yeah, we took the gold too!" The strings segued into a hip-hop segment that said Christine Sinclair could run for "Super Prime Minister," Jessie Fleming was a much cooler Fleming than that "penicillin dork," and that Stephanie Labbé was now legally the God-Empress of Sweden, "one of those loser countries that thinks soccer is called 'football.'"
Following a five minute nu-metal tribute to judoka bronze medallist Catherine Beauchemin-Pinard, a dubstep interpretation of Canada's gold in women's eights rowing, and a remix of Crazy Town's "Butterfly" celebrating Maggie Mac Neil's 100 metre butterfly gold, the anthem began calling out other countries.
"Our home and native land kicked your land's ass, Equatorial Guinea!" confused the three Guinean athletes present, while "All of us are better than all of you, Peru" didn't translate well. "O Canada, we kicked some Icelandic ass for thee" caused a minor diplomatic incident, mostly due to its repeated sampling in a later dance section.
Traditionally, the closing ceremony features the Olympic Hymn and a cultural showcase of the next Olympiad's host. However, the preview of Paris was drowned out by a dramatic rock opera retelling of how Penny Oleksiak won each of her Canadian record seven medals.
The anthem then pivoted to bragging about Canada's vaccination rates, declaring "Oh yeah, we're awesome at that too!" After several verses celebrated immunisation, the song switched tacks again by saying "But enough of that nerd shit, the Federated States of Micronesia got a major ass-whooping!" It then encouraged listeners to shotgun a beer and "insult an Englishman."
Canada's Chef De Mission, Marnie McBean, explained the change by telling reporters that Canada had emerged from the Olympics feeling stronger and more confident. She then said "Now check this out, you fucking dweebs" before accompanying the rap-rock salute to women's softball with some sick air guitar.
At press time, the new anthem was moving into its 34 minute saxophone solo while Andre De Grasse kept the stereo remote away from Olympic officials.