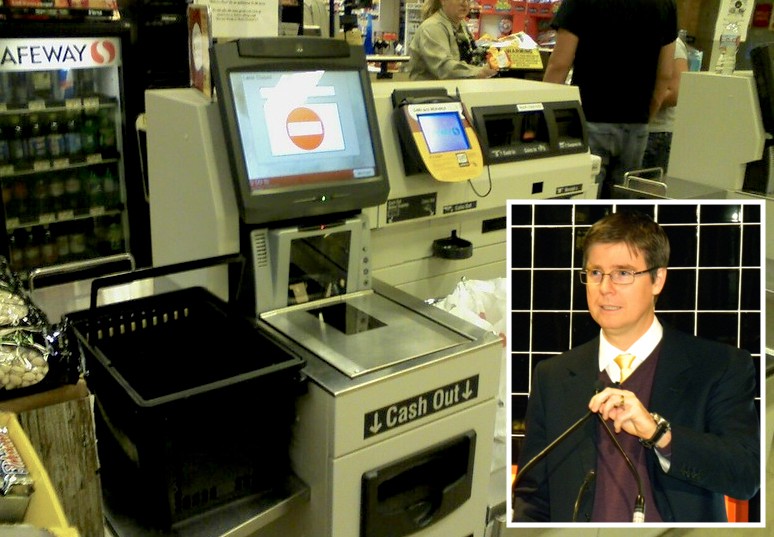 BRAMPTON, ON – Canadian grocery retailer, Loblaws, announced today that their newest commercial will see long time spokesperson and CEO Galen Weston Jr. replaced by a self checkout machine.
The commercial is a departure from past advertisements which featured the likeable grocery heir calmly walking down the aisles, discussing President's Choice's latest offerings. Now, the company says viewers should get used to seeing a robotic bagging station wearing wire framed glasses and a button up attempting to deliver the same message.
"We are very excited about this replacement and think consumers will find the shift to be a more efficient way of receiving information" said head of advertising Chuck Westerberg "at least we think. I don't know, right now the commercials are about three times as long because the screen keeps glitching and freezing and no one on set knows how to operate it"
"At the very least, it's a clever way for us to avoid estate taxes for Weston Sr.- there's no clause stating you have to pay taxes if all beneficiaries are robots" he added
Many early audiences of the advertisement, however, are not so certain about the success of this shift, claiming the ad is both frustrating and difficult to understand.
"I guess I'm a little bit confused because the ad was mostly just the machine screaming 'place item in the bagging area, please' over and over again until an employee from the other side of the store ran over to help" said viewer Mandy Hill. "The focus group said this was supposed to be about Decadent Cookies."
Similarly, many claim the shift is also upsetting as it represents a broader shift towards strained human connection and automation at the expense of entry level jobs.
"Shouldn't people at least be able to choose if they watch a commercial with a real human in it," said a man who identified himself as Schmalen Scweston Schunior. "Whatever happened to supporting important Canadian jobs that are the backbone of society, like being the son of billionaire turned commercial spokesperson?"
The cost-saving measure has already inspired many other Canadian companies to make similar spokesperson replacements. According to sources, Christine Magee of Sleep Country Canada is set to be replaced by a queen memory foam mattress, The guy from A&W will be played by a rootbeer float, and in all forthcoming Skip the Dishes ads Jon Hamm will be replaced by a literal ham.
At presstime, Loblaws announced plans to further this shift towards automation with plans to install a new software that will automatically charge all customers $20 for a loaf of bread.