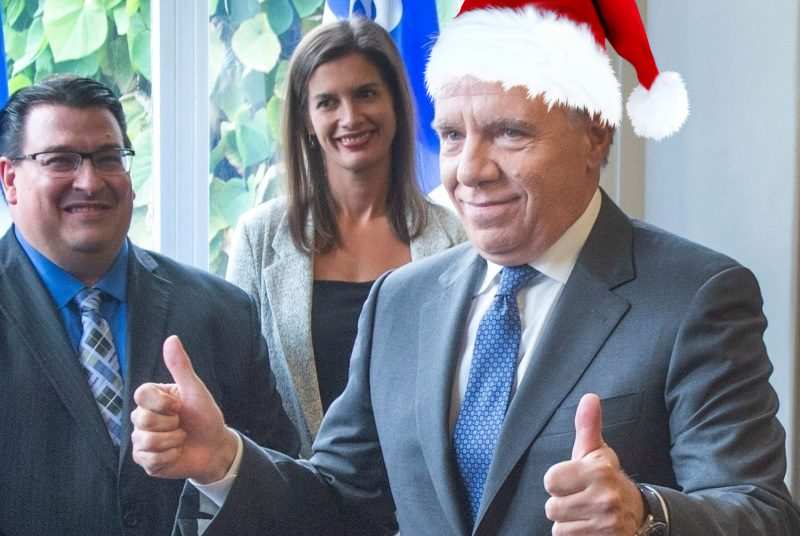 The Parti Quebecois' latest policy came in the form of a proposed 'moral contract' that would loosen restrictions in order to allow Quebeckers to gather for any and all religious holidays that begin with the letter 'C', follow a red and green colour scheme, and honour a white-bearded man who rewards you for being good and punishes you for being bad; whether he lives in the sky, or the north pole. After considerable backlash, however, Premier Legault was forced to reverse this rule and ban all gatherings outright.
As a result, the CAQ had put out the following public safety mandates for the holiday season:
People may gather for one last holiday supper in a group no bigger than 13 members, provided all guests sit on one side of the table and are willing to lose one member to slow, excruciating asphyxiation within the week

Gatherings of members from more than two different households will be fined unless both the elf on the shelf and the angel sitting atop the tree are masked

Activities that could weaken one's respiratory organ, such as inhaling smoke from a menorah or kinara candle, are strictly forbidden 
In an exception that remains yet unexplained, both roasting chestnuts on an open fire and kissing under the mistletoe were to be allowed. 
While the influence of the charter has been highlighted by the holiday season, CAQ detractors claim it started with the complete 180 regarding the use of face coverings in public spaces without even the slightest hint of irony or self-awareness, back in July of this year. 
Premier Legault spoke with sincere regret about the missed opportunity to celebrate an authentically Quebecois secular holiday season where we all, regardless of race or creed, could have come together to endanger our most at-risk members for the sake of celebrating the birth of non-religious icon Jesus of Nazareth, who the Premier recently described as "a humble, working-class carpenter who I'm sure would have always issued his invoices in French."