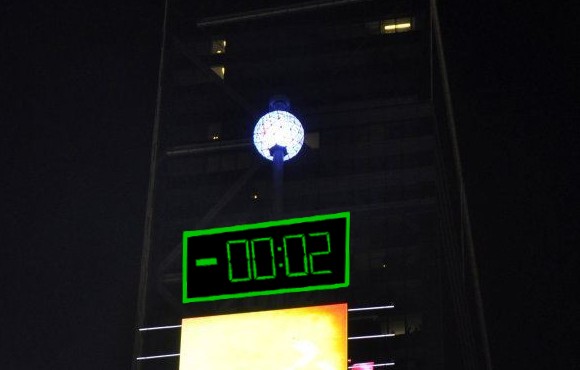 NEW YORK — Excited cheers rang out over a much sparser but still festive Times Square Thursday evening as the few onsite personnel gathered to bid farewell to 2020. But the usual joyful chants of "Two! One! Happy New Y-" were interrupted when the countdown timer on reaching zero continued into -1, -2, -3 with no signs of stopping.
Online commenters in the event's livestream chat were quick to post memes about the "cursed" year. But one user, Jetersucks79, said this was par for New Year's Eve. "Something weird happens every year, last year I saw a Times Square Elmo puking into an open baby carriage. It's New York, you get used to it."
Indeed, the malfunctioning counter was just the latest in many technical issues that plagued the evening including a microphone issue cancelling a planned performance of Gloria Gaynor's "Joy Will Come in the Morning" and a snapped tether causing the "1" in the enormous onstage "2021" numerals to come crashing down.
At approximately 2AM EST, the livestream of the event ended unceremoniously as engineers accidentally cut power to the feed while trying to stop the clock, still ticking along at -7,240.
In a darker turn of events, the U.S. Department of Homeland Security is potentially labelling this as a cyberattack of unknown origin as many computers, navigational systems and Garfield-A-Day desk calendars began exhibiting similar chronological errors after midnight. Android and iOS users have been warned not to manually change the date and time in their phones as it will cause the device's speakers to emit a violent digital scream until the battery is removed.
As of 10:00 am, January ?, 202?, astronomers worldwide were struggling to explain why the sun still hadn't risen.