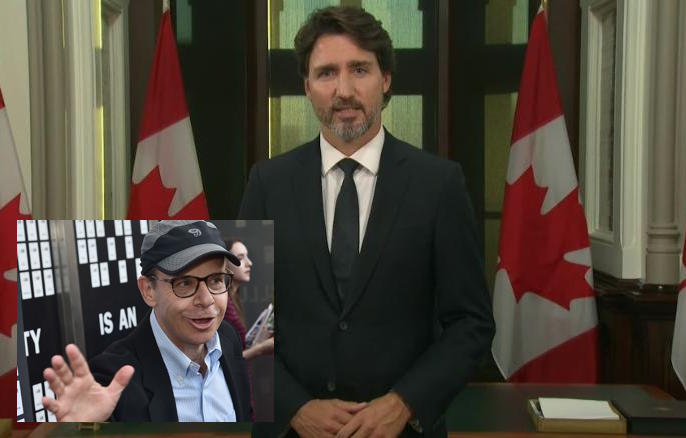 OTTAWA – Following the news that Canadian national treasure Rick Moranis was assaulted in New York City, Prime Minister Trudeau has ordered the full Canadian Armed Forces to amass on the US/Canada border and prepare to retaliate.
"An attack against Rick Moranis is unthinkable and inexcusable," explained Trudeau during a televised address to the nation. "Not only is Moranis a beloved Canadian icon, but the idea that someone could willingly hurt the star of Ghostbusters, Honey I Shrunk The Kids, and…" Trudeau paused to regain his composure, "…Spaceballs, well this is a crime that cannot go unanswered."
"Canada is taking this assault on Moranis as a declaration of war, and will retaliate in kind," Trudeau added before leaving for a meeting with his military advisers.
Across the country Canadians have begun signing up for active duty service in record numbers, all to avenge the senseless assault of SCTV's Rick Moranis. Crowds have numbered in the tens of thousands for nationwide public screenings of Strange Brew, featuring Moranis and Dave Thomas as Bob and Doug MacKenzie.
Notably, Bob and Doug's signature quote "Cooo, loo, coo, coo, coo, coo, coo, coooo!" will also be adopted as the official Canadian Armed Forces battle cry when our troops move over the border and attempt to establish a beachhead in upper New York State.
Some in Trudeau's Cabinet have recommended that he take more measured action by only seeking vengeance against one a beloved American celebrity, like pushing Tom Hanks down a flight of stairs or hitting Dwayne 'The Rock' Johnson with a car. Meanwhile, others have urged Trudeau to embrace a full declaration of war.
Reached for comment, Minister of National Defense Harjit Sajjan was grave. "We've known for years that Rick Moranis was our most unifying Canadian icon – that's why he's been kept in seclusion and hasn't headlined a movie since 1996's Big Bully. But we recently got cocky, and released Moranis from his underground bunker to do that mobile commercial with Ryan Reynolds, and now look what tragedy has ensued."
"Canada will have our revenge. For Rick," added Sajjan.
While Canada's military is dwarfed by the United States military, observers are cautioning that the invasion may still succeed, given President Trump's recent coronavirus infection and Canadians' fervent love of Rick Moranis.
Reached for comment Rick Moranis assured Canadians "Hey guys, I'm fine and it'll heal up nicely, eh," with his signature unassuming charm, leading to an increase in Canadians demanding to invade the US.