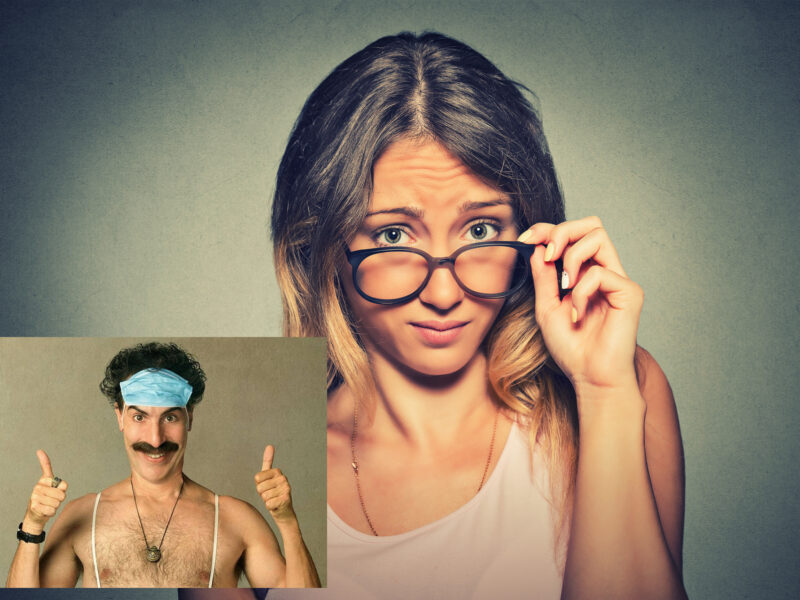 CALGARY – Despite her best efforts at self-improvement and professional development during the COVID-19 pandemic, it looks like, somehow, the peak of Florence Vega's year will be her Monday night screening of the new Borat movie.
"I had big plans for 2020," Vega said. "I was gonna get a promotion, travel, maybe meet somebody. My plans were, as Borat would say, very nice."
Then, of course, the pandemic hit. With slashed hours and limited opportunity to leave her basement apartment, Vega spent spring and summer looking for something to brighten her outlook, to no avail.
"I tried Animal Crossing, sourdough, making an OnlyFans, anything to make my year a little bit better," Vega said. "I even tried getting really into Tenet, but I caught COVID at the screening and you know what? Having COVID is more fun than watching Tenet."
Vega had low expectations for the new Borat movie when she pressed "play" on a whim, but it changed everything.
"I couldn't believe it. It was funny, weird, heartwarming, and yeah, offensive, but in a good way," Vega explained. "Like when you're flossing your teeth and it hurts but it also feels good. And I thought 'huh. This is the peak for me? Okay then.'"
Vega went on to enthuse, seemingly to her own bewilderment, at the stellar performance from Bulgarian newcomer Maria Bakalova, who plays Borat's daughter.
"I mean, usually just looking at Rudy Giuliani triggers a profound feeling of sadness," Vega shrugged. " But when Maria made him look like a gross moron, on film, I laughed. Laughed! Can you believe it? I haven't even smiled in weeks. So weird."
Vega, who never considered herself a Borat fan, now finds herself repeating "my wife" to herself over and over again in times of sadness or hardship, which is of course almost all the time.
"I know there are a few months left in the year, but it's inconceivable to me that anything could top the fairly-solid-but-not-great 7/10 experience I had watching Borat," Vega explained, completely unaware that she was referring to 2021's Best Picture winner at the Oscars.