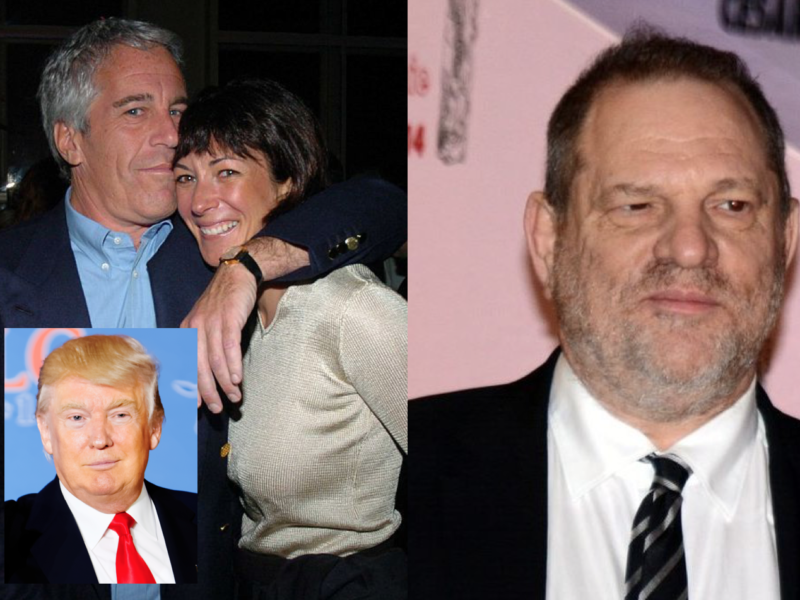 WASHINGTON D.C. – Ahead of the Republican National Convention President Trump announced endorsements from Democrats Ghislaine Maxwell and Harvey Weinstein, intended to counter last week's Republican support for Joe Biden.
"Can you believe we locked down these superstar names," Trump shouted to a group of reporters outside the White House. Ghislaine and Maxwell, both currently indicted on various counts of sexual assault and trafficking, were known for donating to Democratic causes before their respective high-profile scandals and arrests. However, Trump reportedly has spent the last several weeks courting their endorsements ahead of the RNCC.
"Let me tell you, Ghislaine and Harvey are not easy people to get a hold of these days," Trump explained. "I mean, we know exactly where they are – they're both currently in prison – but I mean these two massively huge celebrities finally agreed to get onboard the Trump Train!"
"Checkmate, Democrats," Trump beamed as he finally boarded the idling Air Force One.
Following the endorsement of several high profile Republicans for Biden, including former Ohio Governor John Kasich, former Secretary of State Colin Powell, as well as hundreds of former Republican intelligence and security officials, Trump reportedly demanded to "get one of them on our side." After exhausting his entire rolodex, Trump reportedly contacted the two indicted Democratic donors.
"I am thrilled to endorse Donald J Trump for president, from right here on Cell Block D," enthused disgraced socialite and Jeffrey Epstein accomplice Ghislaine Maxwell in her pre-recorded video. "Donald's presidency speaks to my values, namely allowing vast shadowy networks of wealthy individuals to operate outside the law and society's mores with utter impunity."
"Also, I can't think of anyone I would rather have in the White House signing presidential pardons. Hint hint," Maxwell added before reporting for her shift in the laundry room.
Similarly, Weinstein's endorsement will feature a slickly-produced video titled "A Salute To New York Scumbags", detailing he and Trump's misadventures in Manhattan through the 80s, 90s, and right up until the former Miramax president's high profile arrest.
Reached for comment, Biden campaign staff responded to the news of Trump's retaliatory Democrat endorsements with, "Wait. What?"
At press time, Trump was reportedly working around the clock to figure out how he, a former Democrat donor, could publicly endorse himself.