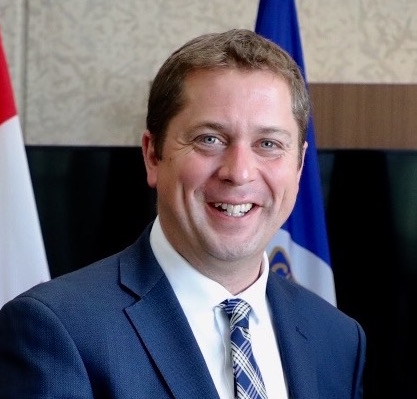 OTTAWA, ON – This week in the House of Commons Andrew Scheer rose to question Prime Minister Trudeau, however eyewitnesses report that he instead muttered "Oh God, I just remembered I lost the election", before frantically exiting the House of Commons.
Once the session was over Rona Ambrose described the spectacle to assembled reporters. "His eyes just glazed over for a full minute, like Raven-Symoné in That's So Raven". Ambrose also related that her fellow conservative MP Kelly Block turned to her quite confused, asking "Who was that terrified man?".
"At that point I had to admit that I also had no idea who he was," added a baffled Ambrose.
Nina Roth, a tourist visiting from Manitoba, later explained what she witnessed on the Parliament grounds. "I was trying to take a picture of the building, but all of a sudden this wily man with pupils the size of toonies ran up to my camera." Once in Roth's face Scheer reportedly asked "if she had voted for him", to which she replied "I don't know who you are".
Scheer then walked directly into oncoming traffic, he was nearly hit by a 1995 Mazda Miata. The driver later explained "I got out to see if this man was well, but he kept laughing and saying 'I lost, why am I still here? Do you know me?'".
"And I didn't know him. It was sad," added the driver.
Reports soon flooded in of Scheer being spotted in Confederation Square, having somehow obtained a guitar. Witnesses say he had begun busking, attempting to play The Tragically Hip's 'Ahead By A Century'. Before he began the song each time Scheer would say "This is for you Harper, I'm sorry," to the baffled crowd of gathered tourists. The crowd soon spooked Scheer, and he dashed off again.
Scheer was later spotted along the Trans-Canada Highway. Long haul trucker Travis Randy had pulled his 18 wheeler over at a rest spot outside Regina Saskatchewan, Scheer's home riding, where he heard something. "I was draining the main vein ya know, and I kept hearin' this creepy voice like that little girl from The Ring. It kept repeating "I lost the election…". It creeped me right the fuck out."
Authorities have received no official reports of Andrew Scheer since he "remembered he lost an election", well over a year after it happened.
However some Canadians whisper that, like a Conservative Bigfoot, Scheer is said to be lurking in the shadows waiting for another election to lose.