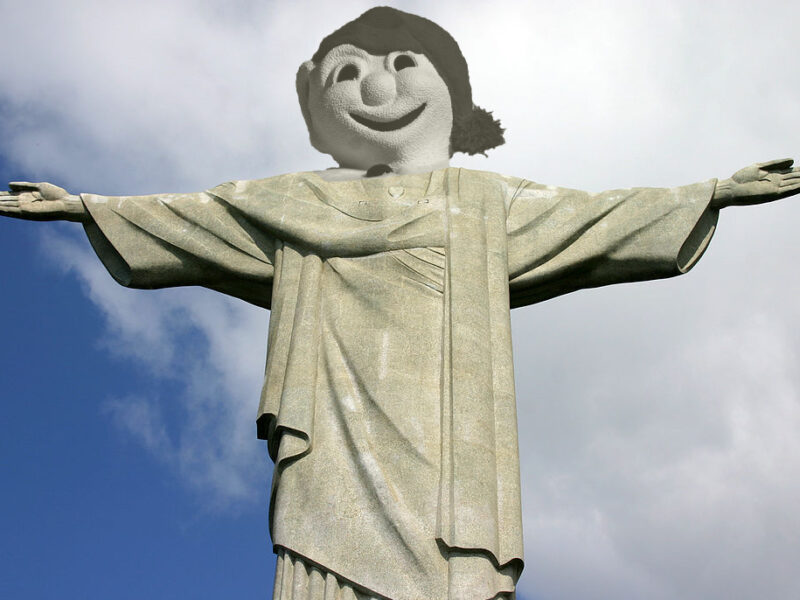 QUEBEC CITY – Contractors working for the province have officially confirmed substantial completion on the landmark, 38 metre tall statue of Bonhomme Carnaval, overlooking all of Quebec City.
The statue depicts the vapid, dead-eyed snowman ambassador of the Quebec Winter Carnival with his arms outstretched in a symbolically crucified gesture, as though simultaneously embracing and haunting all citizens of the province. Towering over the province atop the Laurentians, the statue is expected to draw visitors from all over the world to bask in its sheer unnecessariness.
"We are pleased that the world will soon see the most important icon Quebec has to offer," said Jacques Montclair, lead engineer on the project, "We could not think of anyone more revered in this province than this red-toqued snow golem."
The Bonhomme design initially won out over other well-known French-Canadian personae for the statue, including Celine Dion, Caillou, and a man dressed as a gorilla to play pranks on people on the street. The 90-foot-tall statue will serve as winter carnival mascot, and will require being rebuilt every year after melting. Ultimately, it was felt that this depiction of Bonhomme perfectly captured Quebec's bizarrely simultaneous hyper-Catholicism and hyper-secularist mentalities.
"I do not think it would be a stretch to say that I, like most Quebecois, would readily die for Bonhomme in an instant," said Cardinal Gerard Lacroix, archbishop of Quebec, "I struggle to think of anyone who makes me feel so loved and so fearful of the prospect of the infinite unknown which comes after this world than He."
"Oh yeah, except maybe Jesus, I guess. Still, it's a very close race," he continued.
Indeed, many historians point to striking similarities between Bonhomme and Jesus, including their leadership of large throngs of worshippers, their love of snow, and their ultimate murder at the hands of Roman Legionnaires. Religious pilgrims have already begun booking trips to visit the statue, with rumours circulating that simply touching the foot of the figure can immediately cure Seasonal Affective Disorder among the afflicted.
The Winter Carnival is also expected to begin incorporating more overtly religious elements into its annual celebration, such as a re-creation of the 14 stations of the ice-cross. These depict The Passion of the Bonhomme, where the utterly ghastly ice creature was condemned to death for Quebeccers' sins.
"We expect tourism revenues in at least the hundreds of millions of dollars," explained Montclair. "Surely Bonhomme-loving people will come from the four corners of the world, like Trois Rivieres and Hull."
At least 480 workers tragically lost their lives during the construction process. The Province thanks them for their noble sacrifice.