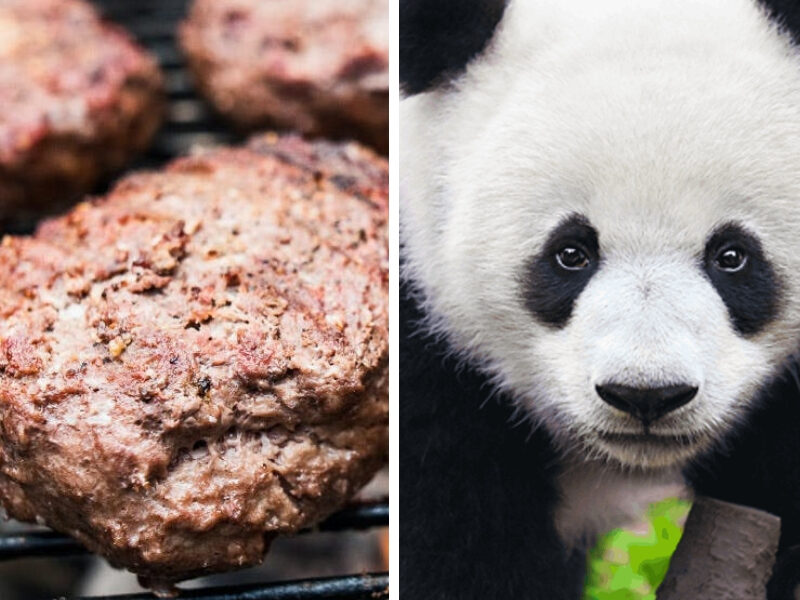 Mississauga, ON – After successfully launching the 50/50 burger, a patty that is 50% animal protein and 50% plants, Maple Leaf Foods has unveiled their new creation: the 99, a burger that is 99% plant based protein and 1% endangered panda meat.
"As the 50/50 burger proved: If there is one thing vegans love it's people eating meat, and if there is one thing meat eaters love it's vegetables," said representative Kylie Kreischer. "So we thought why not go even further and have it be almost all plants, except for a small little bit that is made from one of the most beloved endangered animals on the face of the earth."
"You won't even taste the panda, but in your heart you'll know it was in there," she added.
The new burger, which retails for $399.99, is expected to be released in stores nationwide this month. Experts think there will be a lot of interest, primarily from people on social media going "what the fuck is this?"
Maple Leaf Foods has not yet advised where the panda meat is coming from, although the San Diego Zoo did advise that its two most popular pandas (Ling Ling and Coco) have been missing for months.
"Sure, we may face some criminal charges. But the important thing is that we help people who want to eat less meat, but aren't just willing to like, cut their burger in half or something," said Kreischer.
Maple Leaf Foods is also excited for their new 'Burger Roulette' product, a 4 pack of burgers where 3 are vegan and one is beef, and you can't tell which is which until you bite into it!