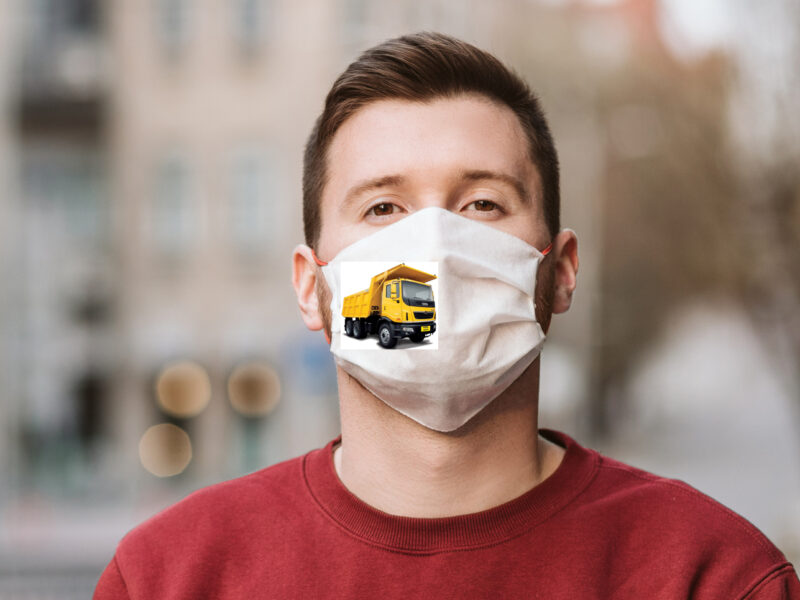 LINDSAY, ON – As many men across the globe have been forced to reckon with the overwhelmingly feminine nature of medical masks, one company, Macho Masks, has capitalized on this concern by releasing a face covering for men that has a lil dump truck on it.
"While of course the goal is to wear a mask as little as possible, sometimes you have to pop into Home Depot and no matter how loud you yell at the assistant manager, you still have to wear one before entry," said Macho Masks CEO Brian Hertzfeld. "And that's where we come in."
"Of course, the most manly thing you can do is die alone in a hospital after refusing to wear a mask but after that it's definitely wearing something with a lil dump truck on it," he added.
According to Hertzfeld, the company conducted a large amount of market research in an attempt to find something men would actually wear. A prototype of a beef jerky mask was quickly consumed, and attempts at replacing the soft ear bands with exposed electrical wire proved to be a fire hazard.
Finally the company realized nothing says "mask-ulinity" quite like a lil yellow dump truck with big wheels and a pile of dirt and a loud horn that goes "honk honk!" and began printing the decal onto the fabric with great success.
"I used to look like a fool when I would go on long walks with my family and be the only one not wearing a mask," said happy customer Tony Long. "But now, thankfully, I've found a mask that lets everyone know I'm a manly man and I like manly things like dump trucks, skateboards, and even dinosaurs."
In addition to the widespread popularity among its wearers, the mask has also won praise from health officials.
"We had all hoped the incentive of protecting the community and preventing further cases would be enough incentive to get men to wear a mask," said Canada Health Chief Public Health Officer Dr. Theresa Tam. "Ultimately, we're just happy people are wearing them at all. Please, dear god just wear one. We are begging you."
Citing overwhelming popularity, the company has plans to expand their product line to include masks with other manly decals like a Boondock Saints poster, some BBQ ribs, and one with tons of little swordfish on it for some reason.