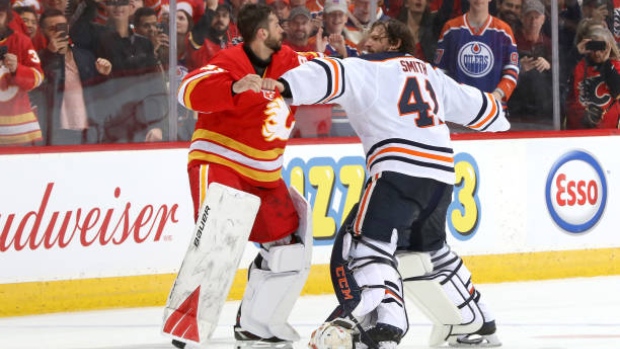 CALGARY – Two Alberta NHL teams and their fans are trying to heal after a devastating game that was marred by unexpected violence and childish name calling last night in Calgary.
The game, dubbed 'The Friendly Meeting of Alberta,' started peacefully after the ceremonial puck was dropped marking the NHL's Head Injury Awareness Week, but the pacifist Canadian sport was ripped apart by players who turned into agitated beasts.
"I couldn't believe what I was seeing," said an Oilers fans who also loves and appreciates Calgary as a team. "I screamed at the television for Matthew [Tkachuk] and Ethan [Bear] to stop and think about how they're disappointing all of us. This kind of toxic masculinity has no place in the game."
Fans attempted to discourage the line brawl by shaming them with silence while others turned their heads in disgust.
"I thought [goaltenders] Mike Smith and Cam Talbot were removing their gloves and helmet to shake hands in a sign of sportsmanship and goodwill towards their teams," said a horrified Flames fan who just wants everyone to have fun at games. "Couldn't they have just used their words and talk things out like adults?"
The two hockey communities will now have a long road back to an amicable relationship built on trust, mutual respect, and peaceful cooperation.