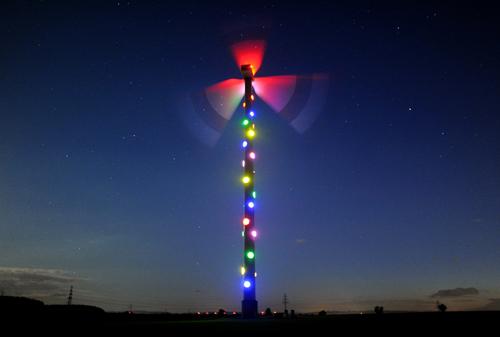 PRINCE EDWARD COUNTY, ON – Ontario Premier Doug Ford and his provincial counterparts got into the holiday spirit by chopping down their own Christmas wind turbine.
Ford invited his friends and families visiting for the premier's meeting to take home a sawed-off clean energy generator as a holiday gift courtesy of the Ontario government.
"This one is a little big, but if we trim 50 feet from the base, I should be able to fit it on the roof of my car," said Ford to his colleagues, gazing at the towering structure ready to be harvested. "I usually get my wind turbines from a guy outside of a Canadian Tire parking lot, but this year was special."
White Pines Wind Farm has nine majestic and recently decommissioned wind energy converters so young they didn't even have the opportunity to produce electricity thanks to the Ontario PC government's cuts.
"I always feel a bit guilty if I have to cut down a tree," said Saskatchewan Premier Scott Moe holding a large hacksaw. "That's a living thing that should be harvested for its lumber or burned for its low-efficiency energy, not tossed away January 1st."
"Timber!" yelled New Brunswick Premier Blaine Higgs as one of the turbines fell crushing a barn and any opportunity to help stave off an impending climate change disaster.
Ford said that cutting down Christmas turbines was worth the $100 million price tag, and Ontarians will be amazed to see the colourful display of lights and decorations.
At press time, the leaders sang old favourites such as O Christmas Fan and Nuclear Energy is Coming to Town.