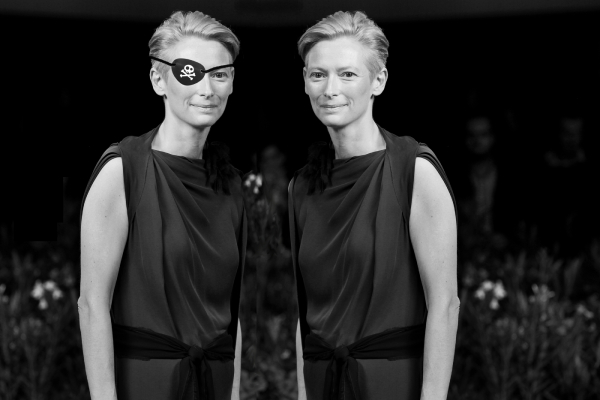 DUNS, SCOTLAND – After years of living in her sister's shadow, Tilda Swinton's younger sister, Close Bracket Swinton, is ready to take the acting world by storm by producing, directing and starring in a one-woman show.
Til Da Do Us Part, Close Bracket's theatrical debut, will run at the Edinburgh Playhouse for six performances next week. The show is comprised entirely of Close Bracket's memories of growing up with Tilda Swinton, an Oscar-winning actress who has played iconic roles in Michael Clayton and The Chronicles of Narnia.
The late Sir John Swinton, the Lord-Lieutenant of Berwickshire, famously named each of his 13 children after the symbols on the second row of his QWERTY keyboard, starting with the birth of Tilda Swinton in 1960 and ending with Plus Sign Swinton in 1973. Sir John never fully explained why he used this unusual naming system, only saying it was "the fairest way" and that naming them conventional names would be "playing favourites".
"Til Da Do Us Part is about the intense relationship I had with my sister, Tilda, and that we both had with our father," explained Close Bracket. "Like, sometimes we would fight a lot, and eventually get into a death grip where we were trying to gouge each other's eyes out. Then our Da would come in and separate us. That's where the title came from. Except one time he was too late. That's why I have this eyepatch."
Besides Tilda and Close Bracket, none of the other Swinton children have shown interest in acting, although Asterisk Swinton is a successful entertainment lawyer in London, and Hashtag Swinton (nee Pound Sign Swinton) is a prominent social media influencer. 
Tilda Swinton has been very supportive of her younger sister's artistic endeavours, says Close Bracket. "She is just so wonderful and supportive even though she is so very very successful and I am not. She sent me a lovely bouquet of flowers just today, with a card that said 'Go get em, sis!' And of course she also attached a picture of my right eye, which she keeps in brine in a jar in her office."
Tickets for Til Da Do Us Part are available at the Edinburgh Playhouse website, and also at Close Bracket Swinton's personal website, ).com