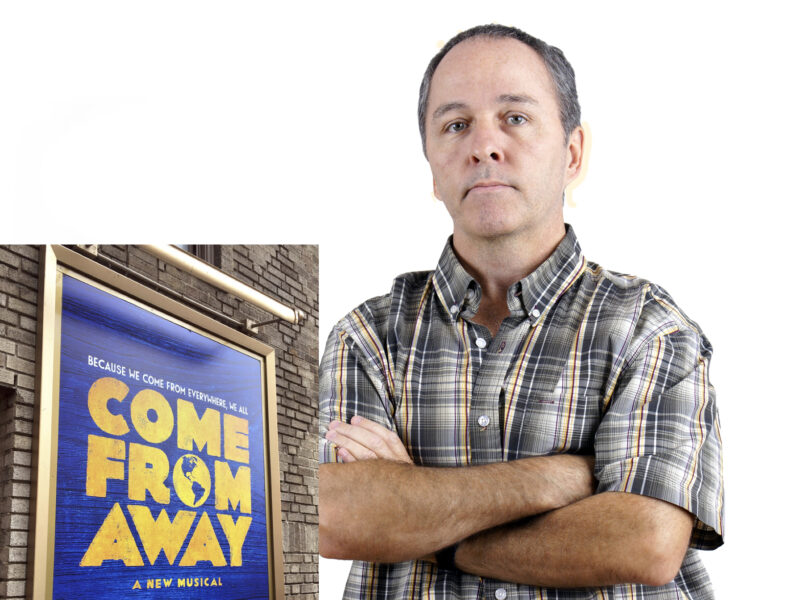 TORONTO – Local middle-aged electrician Albert Taves recently bought tickets to the popular musical Come From Away, and is confident he will make it through the entire performance without shedding a single tear.
Come From Away is based on the uplifting true story of Gander, a small Newfoundland community that opened its doors and hearts to stranded airline passengers during the 9/11 attacks. The combination of global tragedy and small-town kindness is a proven recipe for emotional catharsis, which Taves is determined to suppress.
"I've heard it's quite moving," said Taves. "And I grew up in a small town, so I'm sure I'll really connect with this story. But unfortunately, I won't be crying during the show, due to masculine reasons."
Taves went on to explain that he "may get misty-eyed, on the off chance that two people from vastly different backgrounds somehow form a connection in the midst of tragic circumstances, thereby proving that love is more powerful than fear." But he has developed a technique to refrain from blinking until the extra water on his eyeballs evaporates.
"It's sort of like Schroedinger's cat. Until I blink, it's not a tear," said Taves.
He has also developed a mental strategy to get through the "saddest parts," which involves thinking back to the kitchen fight scene in The Raid 2, which Taves considers "the sickest fight since Ong Bak."
Taves' best friend William Dyson was sceptical. "I believe HE believes he won't cry because he got through Mama Mia," said Dyson. "But this ain't no Mama Mia. An airline pilot sings a frigging song about how the thing she loves most was turned into a weapon. That's a full-on weep scenario." He added, "I'm telling you, this show would break Mark Zuckerberg."
"I want to be clear, there is nothing wrong with a man crying in public," said Taves. "Other than the fact that everyone around you becomes vastly uncomfortable, and you must grapple with a deep shame that is reinforced by almost every facet of pop culture. Other than that, it's not a big deal at all."
Taves' wife Sandy has indicated that if he cries she will lose no respect for him whatsoever, but will definitely whisper, "Are you crying?" every time his breathing pattern changes. "Not to judge him," said Sandy. "Just to make sure he knows that I know that he's crying, and I'm keeping track of each time it happens."
At press time, Taves was seen loudly sobbing into his commemorative program during the opening overture.