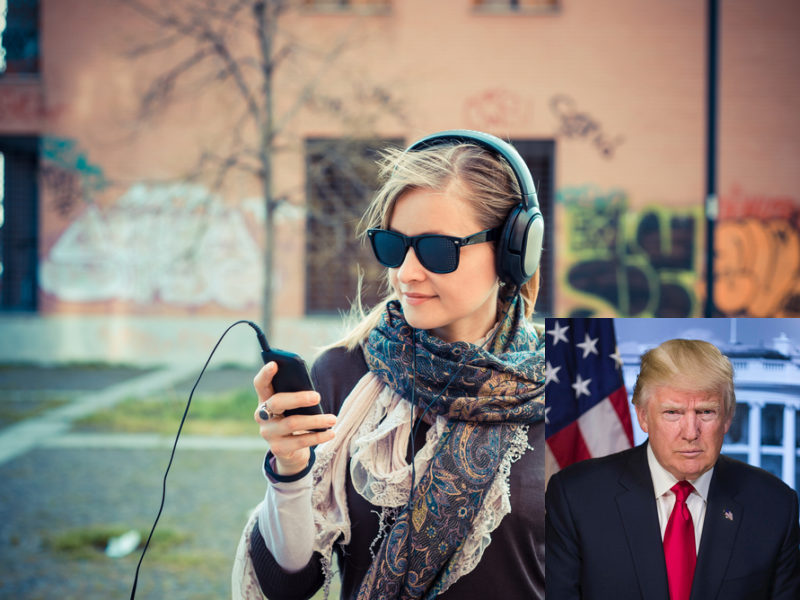 TORONTO —- In what musicologists and pop chart analysts are calling an unprecedented trend, patterns in digital downloads, youtube views and online engagement all indicate that this year's song of the summer will be a forty-five to seventy-five minute unstructured podcast focusing on the potential impeachment of Donald Trump.
Other serious contenders, such as Taylor Swift's "Me", the Jonas Brothers' "Sucker", and Ed Sheeran and Justin Bieber's "I Don't Care" have performed well this summer. However, experts state that in 2019's unique musical landscape, it is unlikely that any of these will be able to beat out impeachment-oriented hits. Recent examples include the NPR Politics Podcasts's compact, infectious episode #591 "Pelosi Broaches Prospect Of 'Impeachable Offense'", Pod Save America's rousing live recording "Republican(s) For Impeachment", or the Ezra Klein Show's soulful, haunting episode "The case for firing an unfit president".
"This trend has captured the zeitgeist in a way previous summer jams such as 'Call Me Maybe', 'Get Lucky', and 'Despacito" came close to but missed," pop chart expert Chris Nolp told reporters.
Indeed, as the weather has gotten warmer and consumers have begun breaking out their speakers to enjoy summer jams by the pool, at backyard gatherings, and even at dance parties, statistics all indicate that the most popular song of the summer will in some way relate at the very least to Donald Trump facing a serious risk of congressional censure.
"When I recognized [the Washington Post's] Allison Michaels' "Can he do that?" playing in the background at a barbecue, I thought it might just be a passing trend," Nolp explained. "But then later that week, at a bachelor party at a gentlemen's club, the dancers were just stripping to Episode #497 of [Slate's] Trumpcast."
"When it got to the part where Yascha Mounk said 'we have to defend ourselves against conspiracies' potential for corrosive impact on our Democracy' everybody in the club just stopped moving and shouted the chorus right along with him. That's when I knew this was more than a flash in the pan."
The reach of impeachment podcasts on popular culture has been unprecedented, from many high school classes choosing a cover of Slow Burn's "God Mode" as their graduation song, to a recent poll showing the debut episode of ProPublica's Trump Inc. was the most made-love-to song of May 2019.
The economic impact of this phenomenon has also spread to consumer goods. For example, just as sales of Grey Goose skyrocketed following its inclusion in Fergie's sly 2006 ditty "London Bridge", purchases of Endy Mattresses have reportedly nearly doubled since they were name checked on Vox's The Weeds episode, "What Republicans can do about Trump and Russia".
Experts attribute the overwhelming response to impeachment podcasts to listeners' desire for music that reflects their emotional state.
"I mean, Carly Rae Jepson's okay, but if you're in spin class and you really just want something to get you through that last hill, you need a voice like [the New York Times' The Daily host] Michael Barbaro's describing the growing public support among moderate Republicans for at least a congressional hearing."
While mainstream musicians are scrambling to adapt to listeners preferences, so far their efforts have met with mixed success.
"When I heard the words 'Trump should be impeached on the emoluments clause alone', I turned my car radio up," Nolp told reporters. "But then I realized it was just that new Ariana Grande song that's basically just a knockoff of episode #498 of Keep It, and I was like, why bother?"