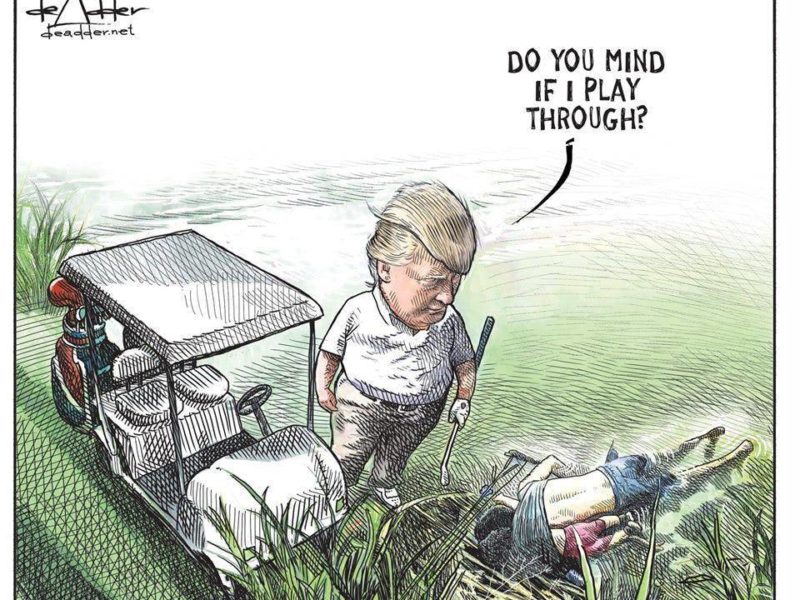 SAINT JOHN, NB – Editorial cartoonist Michael de Adder was let go from Brunswick News Inc. just days after his viral cartoon of President Trump golfing near the bodies of dead migrants threatened to restore a sense of purpose to print media.
The Irving-owned publisher of almost all print media in New Brunswick has confirmed that any sense of relevancy this cartoon may have bestowed on editorial journalism has been safely averted.
"We are happy to say that we managed to avoid a disaster here," stated BNI owner James K. Irving in a press conference attended exclusively by employees of his. "Journalism is a vital force in protecting the interests of oil-baron families everywhere, and I am proud to say that we have safeguarded that all-important role by avoiding troublesome critical thought."
Although technically the cartoon in question achieved notoriety on the internet, the fact that it originated from somebody working for a print publication meant that "it ran the risk of letting the public think that paying people a decent salary to debate ideas in the public sphere is something that still carries worth," explained a deeply troubled Irving.
The cartoon in question depicts the drowned bodies of Oscar Alberto Martínez Ramírez and his daughter Valeria while Donald Trump stands above them in golf attire asking "Do you mind if I play through?", and has been widely criticized for the suggestion that Trump has a sense of sporting etiquette.
As of press time fans stated that while they are sad to lose de Adder as the voice of New Brunswick, "at least maybe now people will forget about that time he drew Justin Trudeau beating the shit out of Jody Wilson-Raybould."