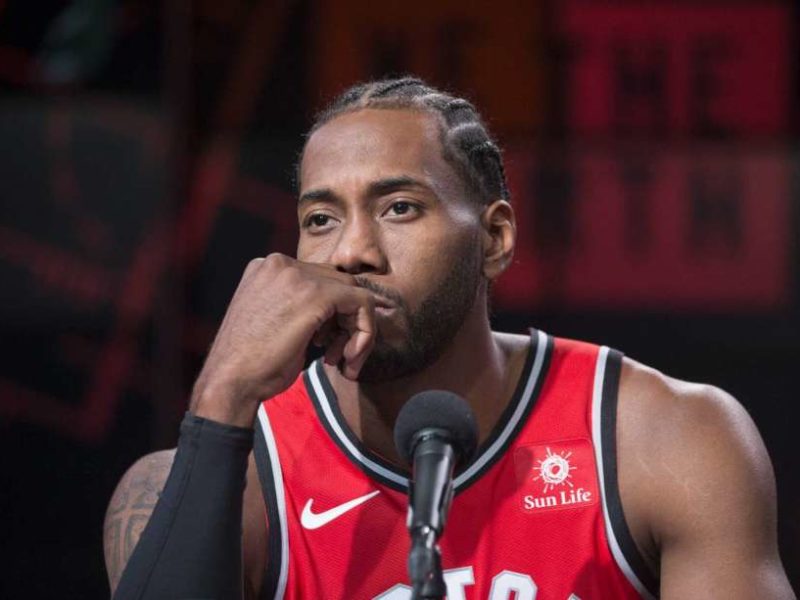 TORONTO — Following the Raptor's first ever NBA championship victory, and his win as series MVP, Kawhi Leonard reportedly let his emotions run wild by turning slightly to his left, and staring silently at a completely different wall.
"I came to play a game, and that game is basketball," Leonard said in a perfect monotone as his nearby teammates jubilantly celebrated and sprayed drinks all over the locker room. "And now, if you will excuse me," Leonard told reporters, before training his eyes on a completely different featureless section of wall, and remaining perfectly still.
"We think this means he's happy, but we honestly can't tell," explained Leonard's teammate Kyle Lowry, as he jumped up and down and joyfully hugged his young sons. "One time when we got into the finals, I heard Kawhi describe that new wall he was looking at as 'the good wall', so I guess I'm just glad he's doing him."
As the night's celebration wore on and word of the party at Toronto's Yonge-Dundas Square reached the Raptor's locker room in Oakland's Oracle Arena, witnesses report Leonard repeatedly insisting that he was "perfectly content" and "uninterested in carbonated beverages."
As the night wore on, a viral video purported to show Kawhi Leonard actually smiling in celebration, and possibly even dancing, though this was later revealed to be a digitally faked video from a World Cup soccer match. According to eyewitnesses, Leonard remained utterly motionless for the remained of the evening.
"After that performance, Kawhi can stare at all the walls he wants," explained Raptors head coach Nick Nurse, his two-piece suit covered in celebratory champagne. "Just as long as he says something before we turn the lights out and accidentally leave him behind, again."
At press time, Toronto has promised to build all the staring walls Kawhi could ever want as long as he please please please stays.