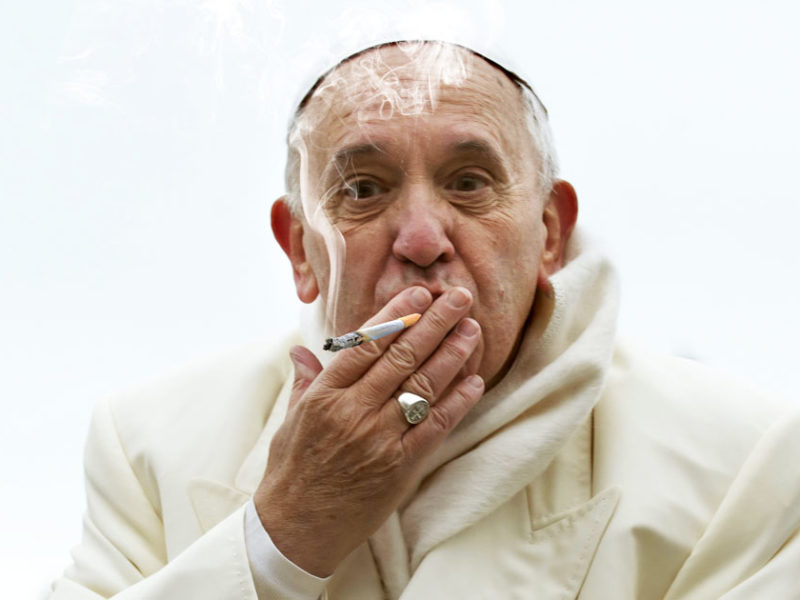 VATICAN CITY – Gathering in the thousands to hear him speak, parishioners were disappointed this Good Friday when Pope Francis came out on to the papal balcony just to open up a pack of Belmonts and hack a dart before going back inside.   
"With the end of Lent, his Holiness has restarted his habit," said Bishop Immanuel, adding that Pope Francis had frequently complained he'd really been "jonesing" for one in the last few days. "This is not an indication that he is freaking out in any way at the state of the world and the vicious internal struggles surrounding the church's on-going scandals."
Rumours have been swirling in recent months that Pope Francis has been spending his time walking the halls of the The Apostolic Palace with a six pack of Miller High Life dangling, and smokes tucked in his Mitre cap.
Bishop Immanuel added that this is "Totally a normal thing," and that, "This Pope has always had the commoner's touch. He often rolls his own smokes and sometimes will just let them dangle from his bottom lip while he comes up with a new church doctrine." Adding: "Again, very cool, very laid back, very laissez-faire."
At press time His eminence was leaning over the balcony spitting thick loogies, not quite reaching the blessed masses below.
Image via Deposit Photos