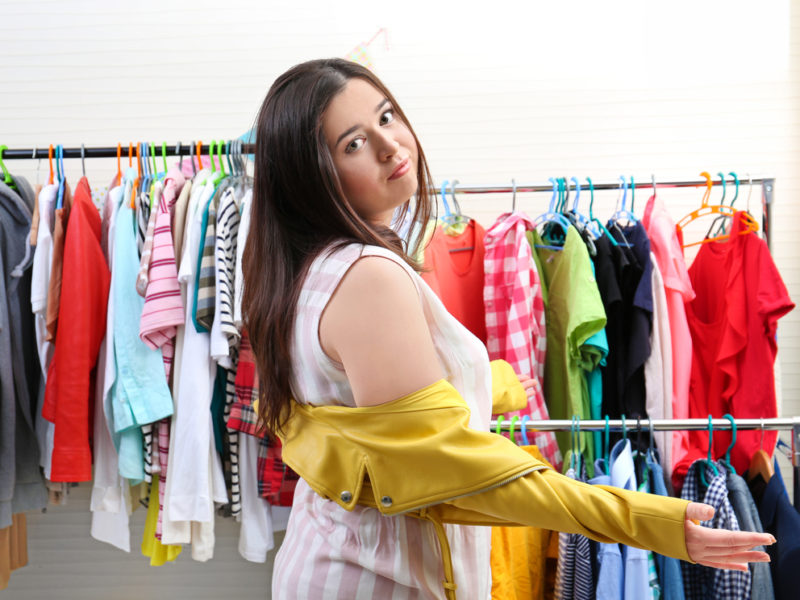 HAMILTON – In an ordeal that spanned three terrifying days, 30-year-old Tricia Whitehead found herself trapped in a women's change room at HotStuffs Clothing Emporium after trying to remove a dress that she really hoped would fit her, despite it being one size too small.
"I thought, I'll just try it on, what's the worst that could happen?" explained Whitehead, hours after being freed from her retail prison. "It wasn't until I went to take it off that I realized I had made a terrible mistake. It got stuck around my boobs, my arms were fully pinned above my head and I was completely blind. All I could do was flail aimlessly in a panic-induced frenzy. After the third day, I started hallucinating, blacked out, and woke up with the dress in shreds around my feet. But at least no one saw me in my underwear- that would have been so embarrassing."
HotStuffs employees began noticing something was wrong after hearing muffled sobbing coming from Tricia's stall several hours after she initially went in.
"She kept screaming, 'I'm fine!' at me whenever I asked if she needed a hand with anything," said change room attendant Monica Thomas. "At first I believed her, but after she was still there when I opened the store the second day, I began to have my doubts. Still, she refused to let anyone in the stall to help her. Eventually I just started sliding food and water under the change room door and hoped for the best."
Dave Bartlett, the store manager, seemed perplexed by the whole incident.
"I have no idea why this happens so frequently," he said, going about his daily task of removing the 'S' stickers from women's clothing items and replacing them with "L"s, seemingly at random. "Women just can't seem to figure out their measurements. It's not like the sizes change from store to store, right? That would be insane!"
At press time, Tricia was already trapped in another change room after trying on a pair of slim-fit extra-skinny skinny jeans.