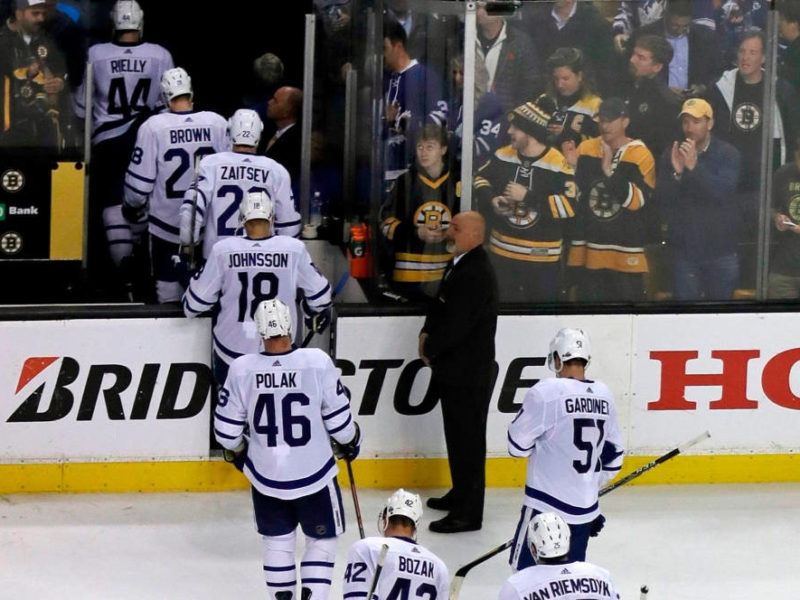 TORONTO, ON – Despite winning 7 out of 10 games so far this hockey season, Toronto Maple Leafs Head Coach Mike Babcock reassured fans that the team's impressive performance will not impact their ability to lose the playoffs.
"Obviously no one was as surprised as me when we hit that five game winning streak," said Babcock at a press conference. "And this was while the other teams were trying to win, which is usually our kryptonite. But you have my word that we will lose spectacularly the moment these games start to matter."
Babcock went on to clarify his unique responsibilities as the coach of the most disappointing team in hockey. "The Leafs have a proud tradition of letting down their loyal fans, and I take that legacy seriously. For many years we were second only to the Chicago Cubs in terms of teams that draw tantalizingly close to any sort of meaningful achievement, then cock it up. And now that they've won the World Series, it's down to us."
"I won't let 50 years of tradition go up in smoke over something so arbitrary as a dedicated, talented team," he added.
Local Leafs fan Jim Becker was relieved to hear that the Leafs are committed to a lacklustre season, pointing out that he uses the team's early and brutal elimination from playoffs as an excuse to have a good cry. "As an emotionally-repressed man, I count on the boys choking to trigger a masculine cathartic release," said Jones. "I've come to welcome, and even rely on that man cave sobbing sesh."
Maple Leafs commentator Jay Williams was also pleased, pointing out that he routinely books vacations that begin the day after regular season play ends. "I'll lose my down payment if they advance. And I'm a Leafs commentator, so you know my wallet feels it."
Babcock closed the conference by complimenting sister teams the Toronto Blue Jays and Raptors for their underwhelming performances this season, adding, "If just one Toronto team looks good, we all look good. And I can't have that."