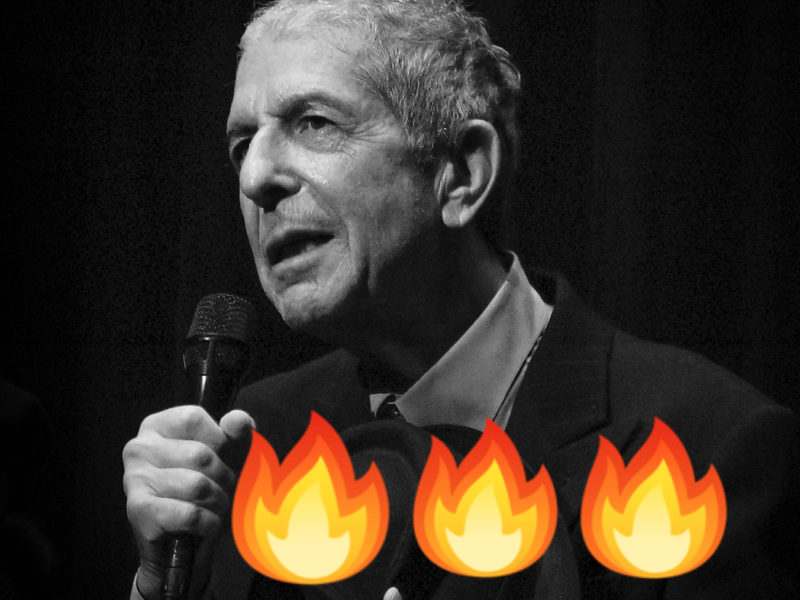 Leonard Cohen: artist, poet, man who has a lot of beefs. With a posthumous poem released this week in which Cohen writes, "Kanye West is not Picasso", many fans were shocked by Cohen's saltiness. But were you aware that Cohen had issues with many singers you know and love? Here is an official ranking of the top 5 Leonard Cohen diss tracks.
DRAKE
Aubrey "Drake" Graham, no stranger to the diss track himself. Apparently, Leonard Cohen was threatened that another Jewish boy from Canada was racing up the Billboard charts, so he wrote the poem, "Best I ever wasn't" in a strange attempt to parody Drake's first single "Best I Ever Had". Unfortunately Cohen was not well versed in Drake's career and went on a tangent about a woman he once met in the rain named Aubrey.
TAYLOR SWIFT
The track/poem regarding T.Swift is simply titled "I do not like the way she sings". The track consists of Cohen's thoughts on how he sincerely doesn't like the sound of Taylor Swift's voice. It is a very literal and technical track with no metaphors or similes. Completely Savage.
BRUNO MARS
This diss track hints at Cohen's naiveté, because he seems to be under the impression that Bruno Mars was an alien from Mars. Some of the lyrics from the track include, "we don't need you on earth young spaceman." And, "I will not put up my pinky ring to the moon. For that is your home, not mine."
LADY GAGA
In this diss track, it was apparent that Lady Gaga hit a nerve in Cohen when she did an album of duets with his contemporary, Tony Bennett. This track is mostly Cohen saying how much better he is than Tony Bennett, and that Lady Gaga's name scares him. Cohen, apparently, had issues with many pop star's names.
RUFUS WAINWRIGHT, JUSTIN TIMBERLAKE, WILLIE NELSON AND THE THOUSANDS OF OTHERS WHO HAVE COVERED "HALLELUJAH"
Out of all of Cohen's diss tracks this one seems to be the most justified. This track consists of Cohen singing the lyric, "Stop" for three minutes straight. Honest, brutal, and salty AF.