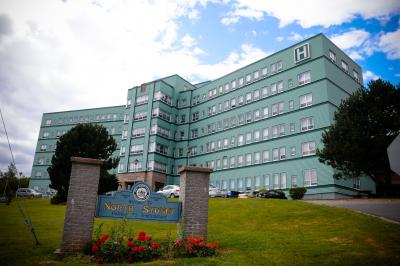 HALIFAX – The Nova Scotia Health Authority is reminding residents affected by ER closures to stop any heart attacks, strokes, and any other health emergency, and resume them when the facilities re-open.
"Any form of medical distress will not be allowed during these temporary closures," read a notice posted to a locked hospital door. "If you are experiencing dizziness, tingling in your left arm, paralysis of half of your body, or are bleeding profusely, please stop doing that immediately. The ER will re-open August 4th, which is when you may resume your life-threatening situation. Thank you for your cooperation."
The provincial health authority explained that these health problems can be treated once their doctors return from their vacations/fleeing Nova Scotia for good. Closed hospitals are asking for future patients to schedule their aneurysms, car accidents, or fishing mishaps later in August, September, or at the very latest 2022.
"By prohibiting all sickness and injury in the areas that closed hospitals serve, 100% of the population will not experience any negative health outcomes," explained Nova Scotia Health Minister Randy Delorey. "This ban is a temporary measure until we can kidnap enough doctors from other provinces and force them to work here."
Locals with health conditions like Gus Pickard says he'll do his part by not dying when services are not available.
"I can't have another heart attack until mid-August," said the 67-year-old retiree. "So I told my clogged coronary arteries they better pick up the slack and do it for our healthcare system…just like all the times before."