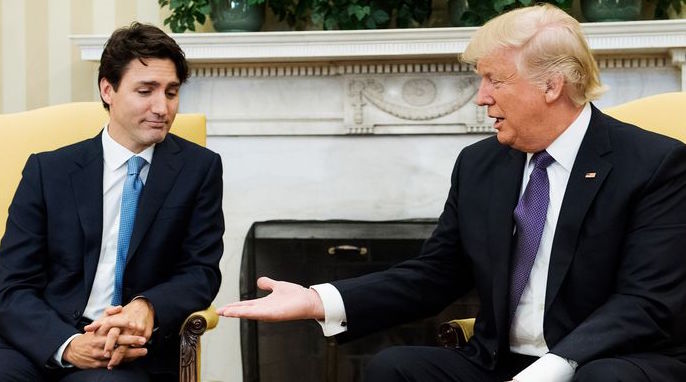 OTTAWA — Following Thursday's Washington announcement of steel and aluminum tariffs against many of its closest allies, including Canada, Ottawa has asked which Trump kid they need to pay off to make this whole thing go away.
At a press conference, Canadian officials made it clear they do not care which Trump family member needs a kickback. "We are not above greasing the palms of any Trump, since that's clearly how things work nowadays," explained Foreign Affairs Minister Chrystia Freeland. "Ivanka, one of the sons. Heck, we'll even wire money directly to Barron if that's what it takes to move this whole thing along."
Other Ottawa departments echoed Freeland's offer to wire money or perform favours for any of Trump's famously corrupt heirs. Environment Canada extended Eric Trump a blanket invitation to hunt any endangered animals of his choosing. "If this is the cost of doing business, Eric can hunt caribou, grizzly bears, spotted owls," explained Environment Minister Catherine McKenna.
"Heck, if Eric wants to shoot a Polkaroo, we will make it happen."
Several departments lined up to offer kickbacks specifically to Ivanka Trump. The RCMP offered to make Ivanka Trump handbags standard issue for all mounties, CBC promised Ivanka her own TV show, and Canadian Senators simply offered her "Manitoba. As is, final offer."
In a press conference, Prime Minister Trudeau backed his ministers' eagerness to reward the Trumps with a kickback. "We in Canada completely understand the new US foreign policy of enriching the president's family, and we will happily follow the example of China, Saudi Arabia, Qatar, Ukraine, and of course Russia's deep-pocketed oligarchs. Let's make a deal."
Trudeau then added, "I just spent $4.5 billion on a pipeline – bailing out one of Jared Kushner's failing buildings would be chump change."