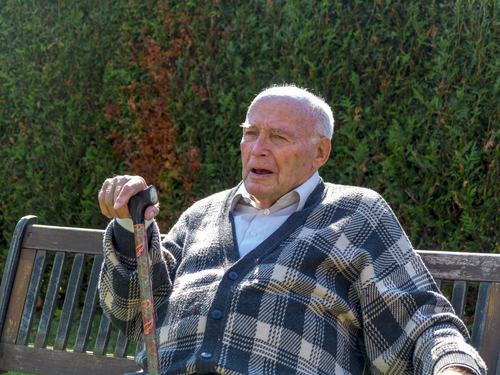 It's election time in Ontario and Ford Nation is fired up! One man from Etobicoke is doing his part in the face of incredible adversity, and it's inspiring AF!
Darryl Homesworth signed up to be an Ontario PC member so he could nominate one of Doug Ford's preferred candidates even though he died of emphysema in 2007.
Darryl's accomplishment has got everyone in his family talking.
"This really took us by surprise," says Jean McDavid, one of his grandchildren. "Gramps always voted Liberal."
Many people say they're "too busy", "don't care", or "don't see a coherent platform" to stop the gravy train, fix our sex-ed curriculum, and support small businesses. Some people can't even be bothered to vote at all. But good ol' Darryl managed to unshuffle off this mortal coil long enough to vote in no less than 4 different PC nomination battles, even though he was cremated and his ashes spread into the ocean off the coast of Nova Scotia.
And what does the chief himself, Doug Ford, think of all this? "Darryl and the millions like him are forgotten Ontarians," he says. "Forgotten because they aren't rich, or fancy, or alive. And these are the people I intend to fight the hardest for." Uh oh! Looks like the Liberals have a fight for the dead vote after all!
Darryl has set an example for us all. So whether you've long ago perished, took a trip on the 407, or had Doug casually buy a membership for you, there is literally nothing stopping you from supporting one of Doug Ford's candidates in Ontario's upcoming election.
In the face of declining voter turnout and increasing apathy, Darryl Homesworth is an inspiration to us all. Go get 'em, Darryl!