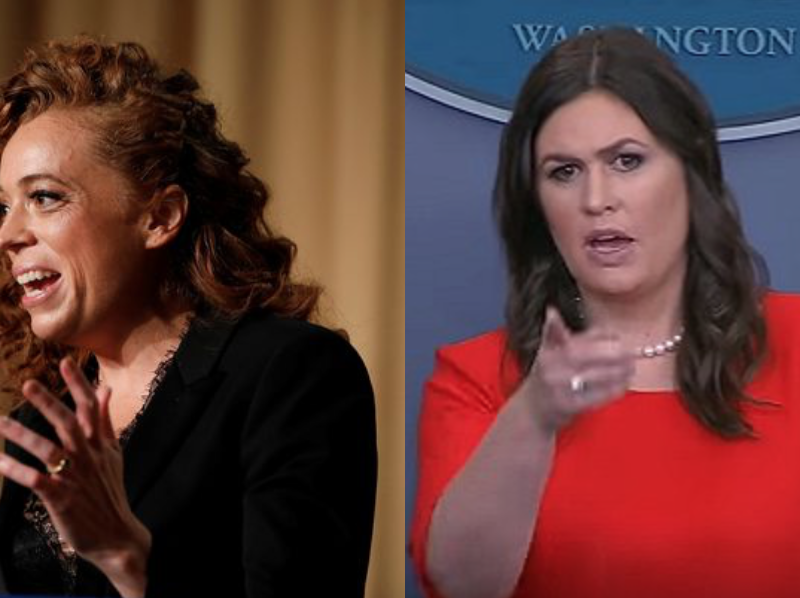 If the past few years have taught us anything, it's that there is a special place in hell for women who don't help other women. Sadly, that is exactly what happened Saturday night when, at the White House Correspondents' Dinner, comedian Michelle Wolf made comments which implied that White House Press secretary possesses moral agency and is capable of being critiqued.
I thought this was 2018, but apparently not!
Wolf's petty and gossipy comments, which shocked politicians and entertainers alike, slammed Sarah just because she frequently lies and has chosen to ally herself with a dangerous and corrupt regime for personal gain. These snarks–which were viciously backstabbing Sarah right to her face–were most likely references to her appearance, because that is the only characteristic women can be identified with. Plus, I mean, have you seen the poor girl? Yikes.
But more insidiously, the comments suggested that even though she is a woman, Sarah is capable of making decisions that affect other people, and as a result should be held accountable for them. This notion of "personhood" places an extra burden on women who are already struggling to make it in a man's world. It could even lead to women being forced to serve on juries or even go to jail if they commit crimes?
I mean, does Wolf even know what it means to be a feminist?
While some parasites joined the cattiness, plenty of more enlightened women stood up for their gal pal, even across party lines! Mika Brzezinski, a left-leaning commentator, pointed out the vileness of "a wife and mother being humiliated" on television, highlighting the wanton cruelty of criticizing a woman just because she's one of America's highest-ranking government officials in a public-facing role attending the event as part of her job. Go Mika!
As sad as this episode has been, it's great to know that it grew into something beautiful–the chance to excoriate a 32-year-old woman, who was explicitly invited to speak at an event, for being too mouthy.