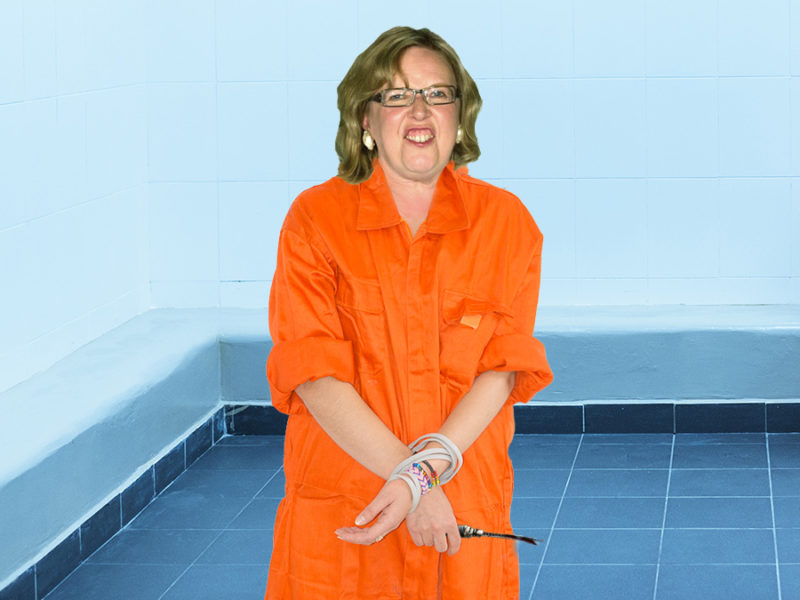 BURNABY, B.C. – Emergency crews have been called to the Burnaby RCMP station amid scattered reports that Green Party leader Elizabeth May has shivved the biggest guy in lock-up following her arrest for protesting the Trans Mountain pipeline.
"It was absolutely a dominance thing and I'll never forget that look in her eyes when she did it," reported Sergeant Rudy Polk of the RCMP. "It was a cold, dead look. Like the look in an ecologically protected shark's eyes when it knows it's been caught."
Those inside the cell recall May first looking scared and nervous when brought in, until a wizened old lifer pulled her aside and showed her the ropes, including how to make organic and locally sourced toilet wine and how to smuggle in DVD copies of The Nature of Things comfortably within your anus. Within an hour of realizing how the jail food chain worked, she had pounced upon local muscle "Tiny" Harrison and shanked him three times in the back with a shank fashioned out of a recycled, cruelty-free toothbrush.
"I have never seen someone take to prison life so quickly and ruthlessly. It's like she was made for this," said Laura Brando, another inmate. "She keeps organizing bare-knuckle boxing matches and insisting that we exclude her so that she can then fight to be included."
May, or "Green Lizzy" as she now prefers to be called on the inside, has already amassed a gang of politically sympathetic supporters within the jail who act as her enforcers. These include Mike "Solar Slayer" Rodriguez, Johnny "Ice Caps", and a mute, seven foot prisoner known only as "The Coastline".
"I won a game of dice against her next to the sleeping bench and she grabbed a fair-trade sock full of nickels and broke my jaw with it," said Martha Wallace through an  assistive writing device in the medical ward. "I would vote for her for PM just because I'd be too scared not to."
Though approached for comment, May could not be reached as she was busy speaking with Justin Trudeau through a glass barrier against which the PM was pressing his bare breast.
Images via Deposit Photos