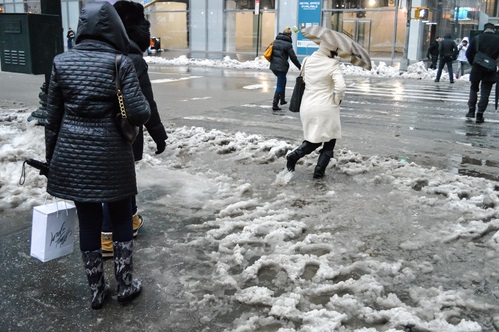 PYEONGCHANG – Canada has added another Olympic gold medal to its count after a Toronto woman leapt a record-setting 3.21m over a large slush puddle at the Gangneung Pedestrian Crossing Course earlier today.
Ayomi Shantha, 27, beat out all 28 other contenders and landed a perfect jump without getting splashed or a soaker.
Judges gave Shantha a 83.65 on the landing for keeping her balance while wearing heeled boots and not stumbling. She completed the treacherous crossing in 20.56 seconds, an Olympic Record.
"I'd just like to thank my family, my country, and Toronto's slushy streets that never seem to get plowed on time," said Shantha with a Canadian flag draped over her back.
Norwegian Johan Kjell, who found an alternative route around the slush, took silver, while the American Jessica Lawrence took bronze.
Korean jumper Rhee Si-woo, who was believed to be the favourite, came 10th after hesitating for too long before jumping, and a Russian athlete was disqualified after she was carried across the intersection by another athlete.
Team Canada is expected to do well in the snow mound hurdles later this week.