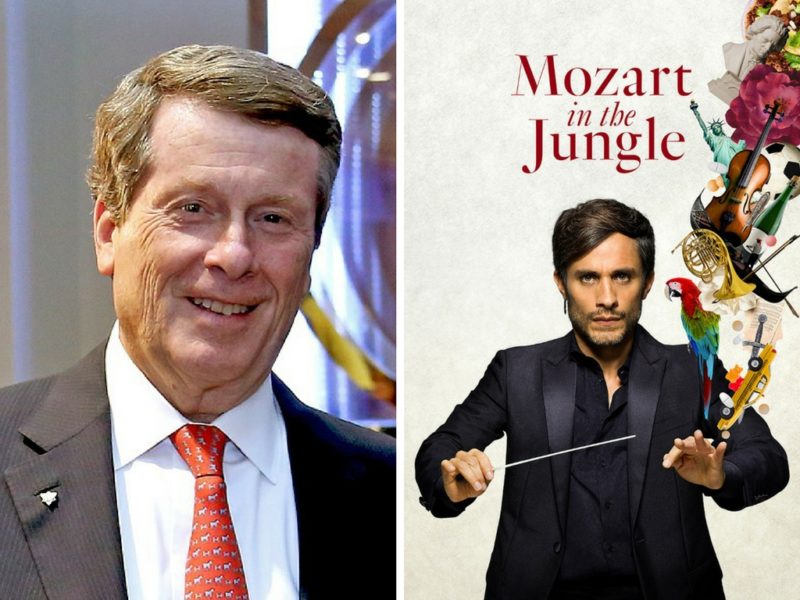 TORONTO – Amidst reports that Ontario's capital has been selected as one of the top 20 locations for Amazon's new headquarters, mayor John Tory has proven there's nothing he won't do for his city by becoming the only human being to ever watch all three seasons of Amazon original series Mozart in the Jungle.
Tory claims he "totally binged" the New York Symphony set show, and that it's "just a coincidence" he started watching the series after the top 20 cities were announced, adding: "Who could not be captivated by the adventures of eccentric Maestro Rodrigo and cellist Cynthia? It's hashtag Peak TV."
The mayor says his favourite episode is "when Rodrigo travels to Venice in search of reclusive soprano Alessandra", and his favourite character is "7-time Tony Award nominee Bernadette Peters as Gloria Windsor, the long-suffering president of the symphony, in a tour-de-force performance." Staffers at city hall have reported that Tory now insists they call him Maestro.
This is Mayor Tory's second Amazon-related record. Just last week the 63-year-old became the oldest person to ever sign up for the tech giant's videogame streaming site, Twitch. Tory is also a dedicated fan of Amazon subsidiary audible.com, which he discovered when it was advertised on his favourite World War Two podcast.
"We all have to make sacrifices for our city" said Tory, "Just like Rodrigo has to sacrifice his love life to pursue his musical passions" he added with a shudder.
When asked if there's any lengths he won't go to secure the headquarters for Toronto, Tory replied: "I definitely won't be watching Crisis in Six Scenes – that's just garbage."