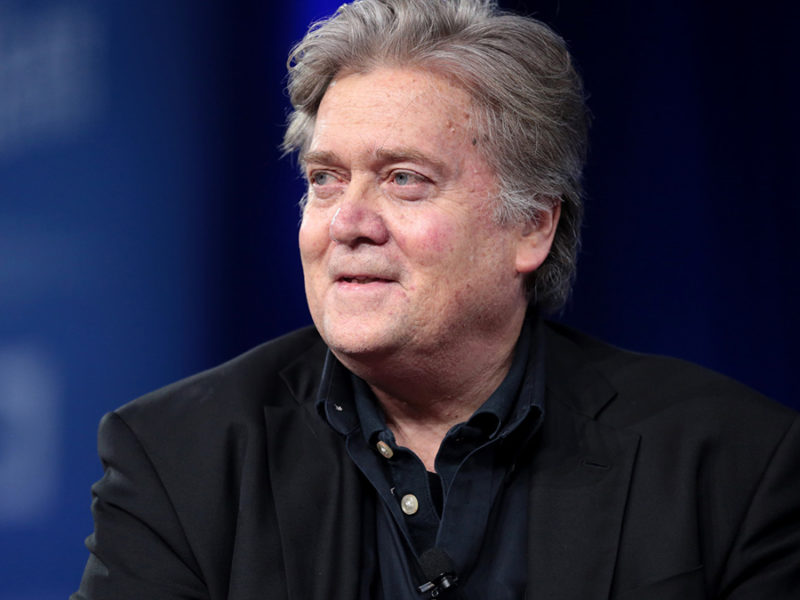 WASHINGTON, D.C. – Steve Bannon, former Chief Strategist for President Donald Trump, will be stepping down as Executive Chairman of Breitbart News so he can devote more of his time to drinking alone in a Holiday Inn Express.
"I do this with a heavy heart and a cirrhotic liver," remarked Bannon as he stumbled out of the darkened room wearing nothing but three-day-old underwear.
The President applauded Bannon's decision, tweeting, "Go for it Sloppy Steve! Drink like there's no tomorrow because you can't sink any lower. I should know! #MAGA".
Despite confining himself to the main floor of his twin bed hotel room and drinking himself into oblivion, Bannon is still very positive about his future. "Sure, I'm alone. Sure I've lost my donors. And sure the Trump base has cast me aside like an empty bottle of Jack Daniels. But I still have my dignity and no one can take that from me", he remarked before vomiting and urinating himself at the same time.
Most analyst are in agreement that once Bannon runs out of liquor he'll likely drink the complimentary travel size bottle of mouthwash in the bathroom. Though some, like Bannon's neighbour and recent divorcee, Henry Franklin, speculated that he could go straight to sniffing the canister of shoe polish in his luggage. "Hey, if I willingly worked for Breitbart and the Trump administration, I sure as hell would want to wipe those memories from my brain."
At the time of this writing, hotel staff could hear Bannon yelling, "Who needs them anyway!" while blaring Jimmy Buffett's 1977 hit song Margaritaville from his room.