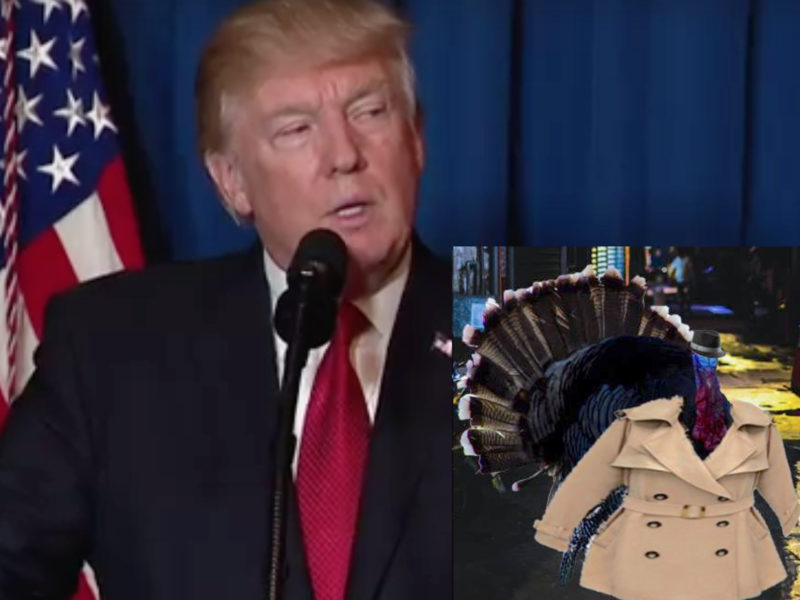 WASHINGTON DC — As president Donald Trump observes the White House Thanksgiving tradition of pardoning a turkey, investigators have revealed that the poultry will also be pardoned for helping the Trump Campaign to collude with Russian operatives in 2016.
The pardoned turkey, dubbed "Gobbler" (full name, Gobbler Siminovitch Matviyenko) is reported to have come aboard the Trump Campaign in April 2016. During the now-infamous "Mayflower Meeting" Gobbler brokered access to hacked Clinton e-mails from Russia to the Trump Campaign, in exchange for repeals of sanctions and criminalization of turkey stuffing.
Gobbler refused to answer questions relating to his connections with Russian oligarch Aras Agalarov, or whether his skin would brown if roasted at an even 325 degrees F. The pardoned bird offered questioning reporters a terse "Gobble gobble, comrades," before leaving the White House for Dulles International Airport.
The Trump Administration has denied any and all criminal wrongdoing by Gobbler, insisting that he was "a low-level volunteer campaign poultry who only got coffee." This, in spite of a blanket pardon covering charges of conspiracy against the United States, money laundering, and failing to register as a foreign butterball.
The president immediately took to Twitter to announce the pardon: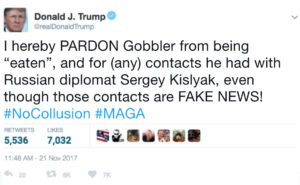 Sources indicate the pardon comes as a huge blow to Mueller investigation, which had intended to indict Gobbler's numerous contacts with Wikileaks' Julian Assange. "We were going to turn up the heat on that bird before flipping him," revealed one FBI insider. "Gobbler even helped (former Trump National Security Advisor) Flynn to conspire with Turkey – that's how brazen his crimes were!"
At press time, Gobbler has been declared a Hero of the Russian Federation by president Vladimir Putin.