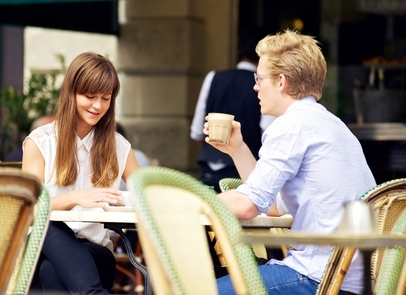 BERMUDA – Reports late last night confirm that the two-week cruise taken by Calgary couple Kyle and Maria Thompson which consisted almost entirely of eating was "the best two weeks of our life together."
"On this very special trip, we managed to reach a degree intimacy we'd never dreamed of," Maria advised in reference to a trip where they'd both always been too full to have sex. "From the early-morning breakfasts to the afternoon barbecues to the late night buffet. The things we saw together! We saw a whole crab, just stacked on another whole crab!"
"It was glorious," Kyle agreed, placing his right hand on top of his wife's while his left hand held the full rotisserie chicken they had taken with them as a souvenir.
The couple also reported that the trip allowed them to not only discover new things about the world, but about each other. "I shared things I'd been afraid to, like how much I don't like salad," Kyle earnestly told sources. "But then Maria started talking about how much she doesn't really like salad. It was a really special moment."
Their fondest memories of the trip included watching the sunset over poutine, experimenting with butter, and being allowed to eat just so much cake.
All in all, Kyle and Maria strongly recommend that other couples take time to work on their connection by taking a trip like theirs. "The feeling you get of being so totally at ease with someone you get when you've just ordered a shrimp and avocado appetizer in front of them and it's your fourth. The level of trust. I just feel so loved, so seen, you know?"
At press time, the couple were planning a wine tasting tour of Niagara that they hoped would be even more special and also 90% drinking.