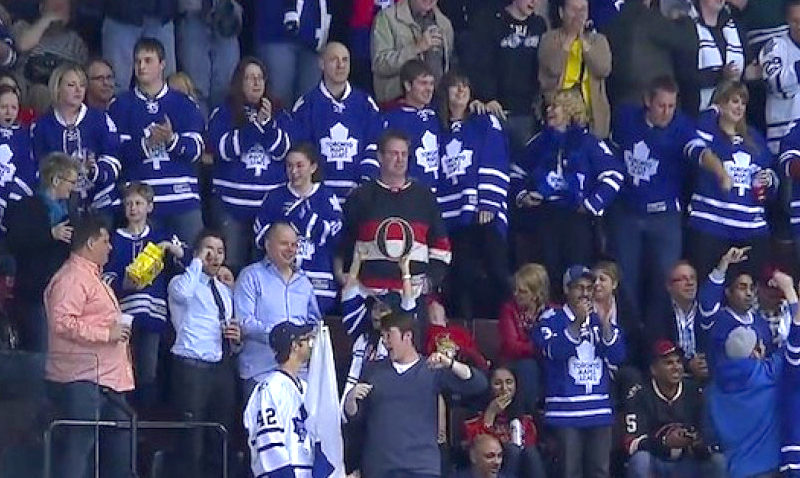 OTTAWA – Capitalizing on popular demand, the NHL's Ottawa Senators announced this week that their upcoming season ticket package will include one free Toronto Maple Leafs jersey with the name and size of the fan's choosing.
"It was energizing to see Toronto Maple Leafs fans at the Canadian Tire Centre in Ottawa last season," stated Sens owner Eugene Melnyk. "We know there's a real chance here to turn Ottawa into a premier hockey city by rallying behind the Leafs and their young, exciting core."
Hockey fans in Ottawa are looking forward to this upcoming NHL season and hoping it will provide just as much excitement as last year when Toronto Maple Leafs rookie Auston Matthews opened the season by scoring four goals in the nation's capital.
"Auston Matthews may have grown up in Arizona, and he may live in Toronto right now, but that night he made Ottawa his home," said Ottawa mayor Jim Watson. "As far as the greatest hockey players to ever play in Ottawa go, he's right up there with Doug Gilmour and Mats Sundin."
With the new NHL season set to begin in October, season ticket holders in Ottawa are ready to wear the Maple Leaf proudly and show the NHL that no fan base is as passionate about their hockey team as they are.
At press time, NHL Commissioner Gary Bettman has refused to allow the Senators to play all 41 of their home games against the Maple Leafs.