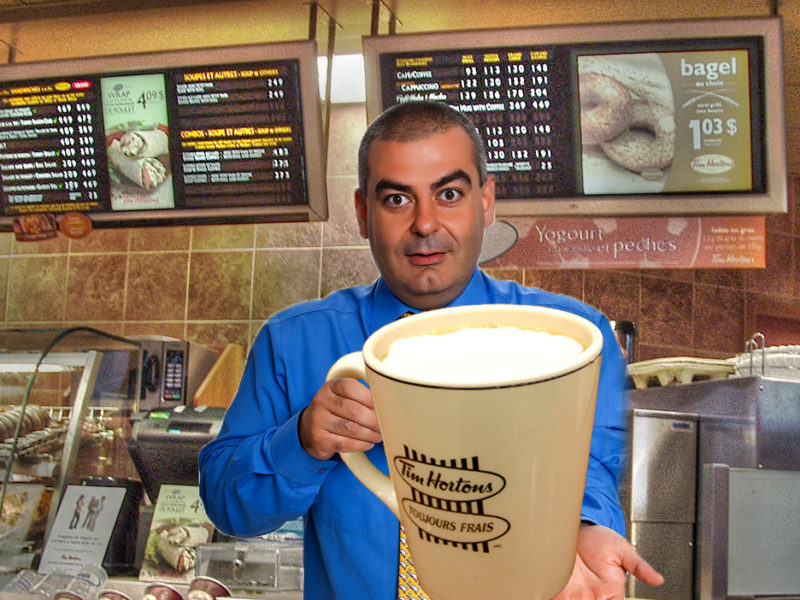 OAKVILLE, ON – In celebration of Canada's 150th birthday, Canada's favourite coffee chain will replace their world famous Double-Doubles with Sesquicentuple-Sesquicentuples for a limited time starting this month. The new beverage contains the same amount of coffee Canadians love, with 150 creams and 150 sugars, and available with collectible special edition 5.2 litre mugs, with many depicting a variety of iconic Canadian images and landmarks.
"We at Tim Hortons want to celebrate the 150th birthday of this great nation with our customers," said Tim Hortons Canada president Sami Siddiqui at the press event unveiling the new 14-pound menu item. "We encourage Canadians to come in to one of our restaurants and try a Sesquicentuple-Sesquicentuple today. It's never been easier, or tastier, for us to show our national pride!"
While the new 176-ounce beverage will temporarily bump the Double-Double off the regular menu, Tim Hortons' Senior Brand Director Julia Hemsworth assures customers they won't miss the flavour.
And although millions of Tim Hortons fans have already reacted to the announcement with excitement across social media, Canadian Health Minister Jane Philpott has been more apprehensive.
"Dear God! Don't go anywhere near that drink!" shouted the former medical doctor when reached for comment on the 10,500 calorie beverage.
"I don't give a flying fuck that it has beavers and maple leaves on it, that thing's gotta contain at least 6.5 pounds of sugar," she estimated accurately. "That's double the amount for a lethal overdose. No! Just no!"
"If the Fathers of Confederation could see this monstrosity they would take it all back," she concluded.
The limited edition drink will be available in restaurants across the country through the end of the year or until a public emergency is declared.
Photo credits: 1,2,3