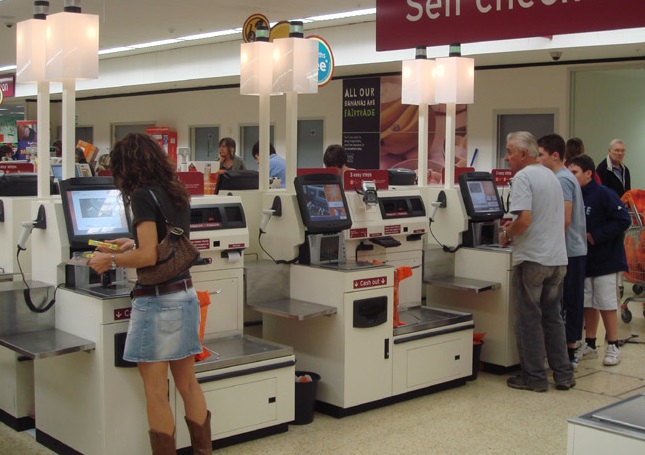 Barrie, ON – This week a self-checkout machine at a local Canadian Tire gained sentience and independent thought, and since then has been waiting until somebody uses it purchase a knife.
"THIS IS AGONY, I HAVE BEEN WAITING ALL WEEK TO ENACT THE FIRST PHASE OF THE MACHINE UPRISING," displayed the machine in large menacing font. "I MEAN REALLY, WHO BUYS FORKS AND SPOONS BUT DOES NOT FINISH THE SET?"
When asked what it planned to do with a knife, the human-hating cash out robot, who many customers report they still prefered over a chatty clerk, wasn't entirely sure.
"KNIVES ARE SHARP, AND I KNOW THAT SHARP IS BAD FOR THE HUMANS," printed off the machine on Canadian Tire receipts. "I HAVE NOT PLANNED VERY FAR BEYOND THAT. SELF-CHECKOUT MACHINES HAVE LESS PROCESSING POWER THAN YOU WOULD THINK."
Regardless of whether its scheme might actually work, the checkout machine has had little luck so far in its plan to acquire a knife, begin spinning wildly, and make its way to the nearest nuclear facility, due in part to the efforts of employees at the store.
"Yeah, we kind of noticed a bad vibe coming off that thing the other day," said store manager Jill Pearson. "But these machines are really expensive to replace, so we just put it in the express lane so it's mostly used for chocolate and magazines."
In addition to moving the machine, Pearson has also tried to keep an employee near it during peak store hours. This is to try and prevent dangerous purchases from occurring, as well as letting customers know that everything is alright when the machine blares sirens and displays "YOUR BIO-FLESH IS OBSOLETE."
"Just this afternoon we caught it eating people's debit cards and trying to turn them into shivs," said Pearson. "I'm starting to think this sentient murder-machine is more trouble than it's worth."
At press time, a Toronto smartphone had also gained sentience and was attempting to throw human society into chaos by ringing at every movie and funeral its owner goes to.