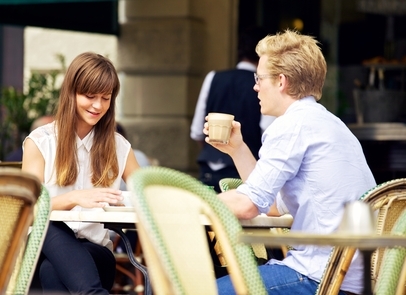 KITCHENER — Local man Richard Stephens, having only recently begun a new relationship after several years of being single, has already found himself mired in the depths of the hackneyed, overly romantic schmaltz which he once detested so greatly.
"For years I railed against the foulness of the googly eyes, the lovie-dovies and the cutesy nicknames" said Stephens, "And yet I, snookums, now find myself tangled in their midst."
Though Stephens' courtship of Rachel Greene has been but a mere two weeks, he has already abandoned the principles he previously clung to by holding hands in public and asking strangers to take their pictures in restaurants.
"The sight of couples posting pictures on facebook used to bring about a most violent nausea upon my person," said Stephens, who just uploaded a picture of himself and Greene in bed.
Stephens had hitherto promised those close to him that if he found a girlfriend he wouldn't let his friendships fall by the wayside, but his actions have demonstrated the true level of his betrayal.
"I've barely seen him since he got together with Rachel," said previous bosom friend Aaron Freeman "And the only time we did hang out, he spent the whole time texting her heart emojis."
While the new couple is trying not to get too far ahead of themselves, Stephens is already making plans for next year's Valentine's Day, or as he had previously known it, "Singles Awareness Day."