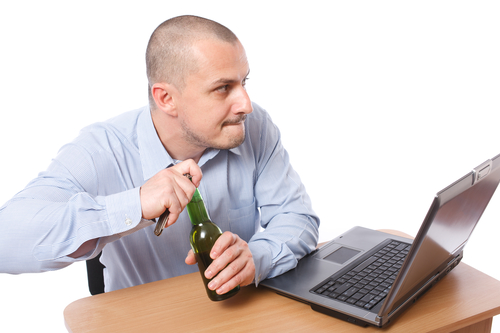 Between work, home, exercise, and family, sometimes it seems like there's just not enough hours in the day! But one man is pushing his productivity to the max with an exciting new lifehack – stashing a bottle of bourbon in the drawer of his office desk!
It's not everyday that one person revolutionizes the way that we all handle work/life balance, but trailblazing free-thinker Jake Perkins has given new meaning to the phrase "drinking outside the box". A humble insurance adjustor from Winnipeg, Jake has dealt a courageous blow to those who would say "you're not supposed to drink at work."
"Normally I'd be up until three or four AM trying to get all my drinking done, but one day I realized I wasn't getting ANY drinking done during office hours," explained Jake during one of his patented "bourbon breaks." After pouring a stiff drink from his easy-to-access stash (located right in his top desk drawer), Jake continued: "So I started crunching the numbers, and determined that I finally could "have it all" by drinking steadily while I'm on the job."
To increase his efficiency Jake followed a strict drinking regiment. For every 60 minutes of work he would do a shot while also stretching and resting his eyes from the glare of the screen to prevent against macular degeneration. Then, during his lunch hour, rather than paying for a high-calorie meal, he brings his own distilled grain alcohol from home.
Not only has Jake's ingenious multitasking made him the envy of all his colleagues at Jamieson McCann Insurance, his new alcohol-fueled positivity has management singing his praises.
"Sure, Jake's been late for a few meetings, and he keeps insisting that prospective clients join him for rounds of shots at 10:30 in the morning," explained George MacNeil, Jake's supervisor. "But it all pales next to how much he's getting accomplished in a day. Go Jake go!'
Having conquered the business world, Jake has announced plans to adapt his drink-based multitasking to other areas, including church, the gym, and the car.