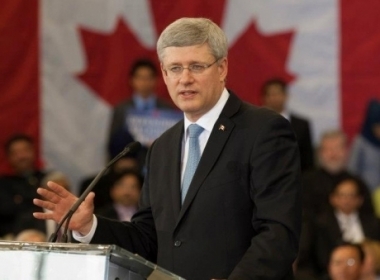 OTTAWA – In an unexpected turn of events little known MP Hephen Starper has entered into the race for leadership of the Conservative Party.
Starper is considered by many to be a dark horse candidate due to his mysterious background and aggressive insistence that he be given the role of leader simply because he deserves it. A copy of his resume, provided to the media, lists an impressive array of accomplishments including working for Imperial Oil, penning a number of influential editorials and think pieces and speech writing for numerous MP's. However, the period of 2004 – 2015 is blacked out with a magic marker, and the words "Um, protecting the free market?" scrawled in its place.
"The Conservative party has lost it's way. I want to bring it back to it's very recent but not quite current glory" said Hephen Starper. He laid out a detailed policy plan including closer ties with George W Bush, becoming involved in foreign wars, not talking to the press and muzzling fellow MP's.
Reaction from MP's has been mixed. Many such as Dean Allison have described an overwhelming urge to "mindlessly follow him for a decade until he leads us to a massive electoral defeat." Other MP's have yet to make a judgement about Starper and his bid for the leadership "I feel like I've met him before but I can't quite put my finger on it." said David Anderson MP for Cypress Hills-Grasslands "Maybe we spent years trying to dismantle the CBC together."
The upstart MP had harsh words for leadership rival Kellie Leitch. "There is no place in Canada for that sort of xenophobia. It should be far subtler. Like coded attacks against Islam or creating a second class of citizenship for foreign born nationals."
Telephone calls with residents in Hephen Starper's riding show a deep love and devotion from his constituents. Local construction worker Tephen Tarper and his wife Ephen Arper stressed how "responsible and handsome he is, also he plays piano so well".
It is unknown whether former Prime Minister Stephen Harper will endorse the upstart's leadership bid.
With files from Eric Trukienicz