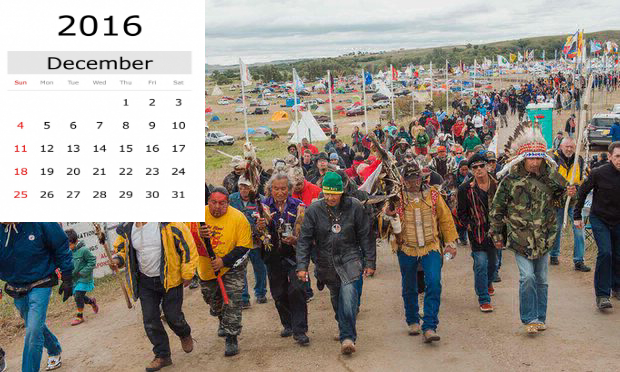 STANDING ROCK, ND — The Army Corp of Engineers has announced they will deny permits for the Dakota Access Pipeline, representing a victory for the Standing Rock protesters and a lone bright spot in the year 2016's uninterrupted streak of pure misery.
"This is a real upset," replied 2016, reflecting on a near-perfect "no hitter" that included the Orlando nightclub shooting, escalation of the Syrian conflict, and the election of Donald Trump. "I was in a real disaster groove, and just needed to ride out these last 4 weeks, but then one actual piece of good news just squeaks past you."
"At least I still got Bowie and Prince. That's not nothing," mused the dejected unit of time.
Asked how they felt about being the lone bright spot in a year of relentless despair, the Standing Rock leaders remained hesitant. "I don't know if protecting our ground water completely makes up for Russia invading Crimea, but we're just happy to have something good happen for once," said Rami Bald Eagle, Lakota Tribal Leader. Asked to elaborate, Rami added, "Come on, the ink is barely dry on this deal, and we're worried you're gonna jinx it."
Asked whether the year 2017 was planning to go for a similarly flawless year of tragedy, 2016 was optimistic. "2017 will have a lot to work with: the weakening of NATO, climate change, plus Bob Newhart's looking pretty old."
"Barring another Standing Rock happiness upset, 2017 should be back on track to be perfectly catastrophic," grinned 2016.
At press time the Standing Rock protesters are considering sharing their victory with some of 2016's notable losers, though calls from the Cleveland Indians have gone unanswered.