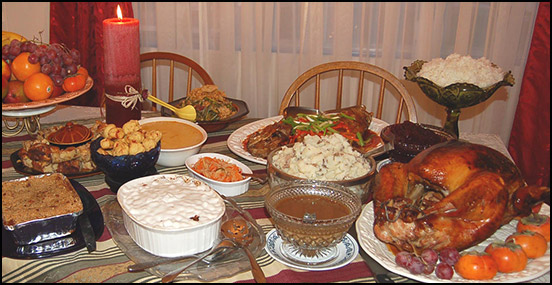 OTTAWA – Canadians nationwide are gathering with friends and family to give thanks for the harvest or a historical St. Lawrence voyage or whatever.
"My family always has a big turkey dinner on the Sunday or Monday of Thanksgiving weekend, or one time the Tuesday before," said Ottawa local Rachael Thomson. "My homemade cranberry sauce; delicious stuffing; pumpkin pie with whipped cream: it's all in celebration of what I think is the end of the year's harvest but could be something else".
Thomson isn't the only one who holds a big gathering. David Ellis of Renfrew hosts a dinner for his friends who live too far from their family to head home for Thanksgiving. "We all get together to look back on our year, think of how far we've come, and remember Martin Frobisher's successful return from exploring Hudson's Bay or the Northwest Passage or wherever it was he went in 1578".
"It's very important to me that we hold true to this custom on the traditional day. Parliament officially declared Thanksgiving to fall on the second Monday of October all the way back in… 1957", said local teacher Debra Galloway, looking it up on her phone, "Well anyway, there's nothing like getting together with my sister's family on that day to observe the anniversary of the end of the War of 1812 or the Lower Canada Seamstress' Revolt or whatever it was".
Local beautician Malcolm Vargas also considers it important to observe the holiday on the proper day, which over the years has fallen on April 5, May 21, June 18, November 11, the second Monday of October, the third Monday of October, and a Thursday in November: "We need to hold this day true to our hearts as we celebrate the healthy recovery of the Prince of Wales in 1872 and probably also Armistice Day".
Asides from being pretty sure the holiday has something to do with pilgrims crossing the prairies, Canadians this long weekend will hold true to the long held traditions of arguing over American sports, falling asleep on the couch, and letting Cindy wash all the dishes.