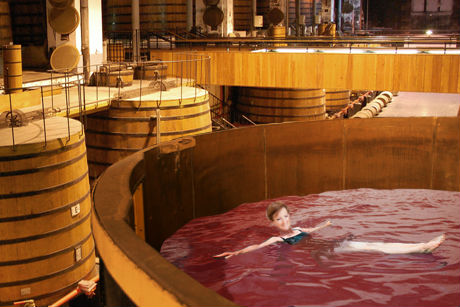 NIAGARA-ON-THE-LAKE, ON — After an exhaustive two-week search, local bank manager and self-professed "world's funnest aunt" Wendy Toolend was found in a 20,000 gallon vat of wine alive and "cravin' some yogurt-covered pretzels."
The wine lover and aunt to "Tim-bo, Gordie, and the little lady Jessica" had fallen into the vat during a tour of the Saint-Helen-on-Niagara winery. According to Toolend, she had been separated from her tour group during, "a really boring bit where they didn't serve us any wine."
Lost in the industrial cellar, Toolend found herself on a catwalk above the twenty-foot wide fermentation vats.
"I saw them down there and I thought to myself: 'Gee, my wine glass at home is bigger than those dumb tubs,'" she explained. "That's when I tried to climb over the railing to get a closer look."
Toolend fell fifteen feet into one of the vats.
Despite her predicament, Toolend neglected to immediately call for help. She admitted later to reporters that the warm, semi-fermented grape juice was too sweet and comforting to give up. Unfortunately for her, the winery had been on their final day before a ten-day work stoppage.
"At that point I was yelling for help," said a red-stained Toolend. "Like 'Hellloooo.'"
Miraculously, Toolend was able to survive on the contents of the vat. Though her blood alcohol content was at a near lethal level, medics found her in otherwise good health. When asked how she was feeling, Toolend scoffed, "I drank more last weekend at the cottage."
A group of French scientists who heard about Toolend's miraculous survival have already asked her if she would be interested in flying to their laboratory for testing, to which she enthusiastically responded, "Heck yeah! Paris? Oui oui!"
As the paramedics began to pack up, Toolend's niece and nephews arrived to bring their aunt a warm blanket and an emergency bag of Chicago mix popcorn.