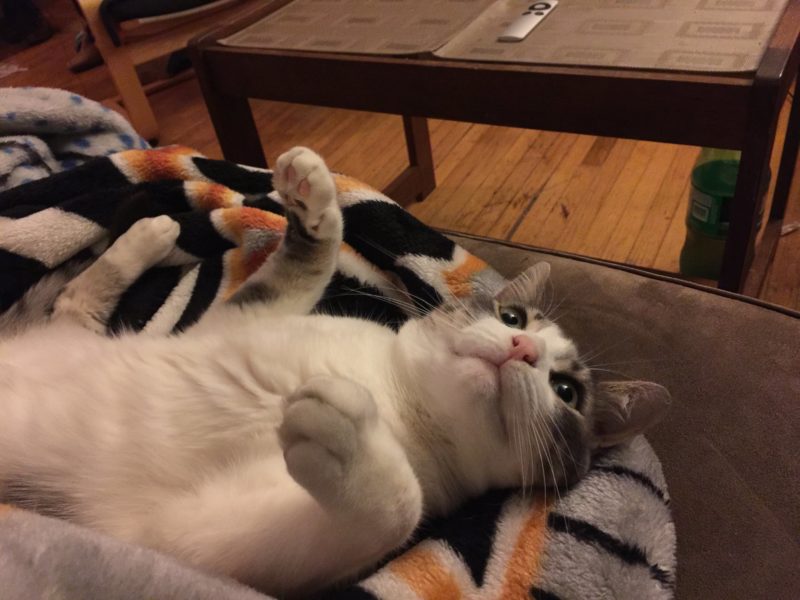 Aurora, ON – In a quiet suburb outside of Toronto lives an adorable, gregarious, grey and white cat who greets everyone he meets with a nuzzle and a purr, and has managed to wipe out three bird species and endanger several more.
When he's not tearing the head off of one of the few remaining Bank Swallows in the world, the beautiful and cuddly three-year-old domestic short-haired named "Jack" is often seen strolling through the neighbourhoods or back at his owner's home eating his dry and wet food.
"He has a unique talent for climbing on the roof, catching things in mid-air, and killing hundreds of birds that happen to be endangered or thought to be extinct," explained owner Antoine Scriber. "He's just so cute when he plays with his green feather boa toy."
"He once brought a full grown peregrine falcon into our home! And I can't count how many times I've found a dead bald eagle on my porch; its eyes frozen in terror. Silly Jack; I don't need presents from you!"
Scriber then paused to remove a shard of a Snowy Owl's beak from the corner of Jack's mouth.
The friendly feline is also a favourite among locals who instantly recognize Jack with his big yellow eyes, distinct markings, and often with feathers from a Acadian Flycatcher around his mouth.
"Look at him roll around exposing his unique markings; he's just like a person," explained resident Nancy Wong. "I mean if that person was a sadistic serial killer who hunted people for sport until their extinction…But he's just so irresistible and doesn't bite when I rub his belly."
So the next time you visit Aurora, Ontario, make sure you drop in and say 'hello' to Jack and 'good-bye' to the Logger-headed Shrike, the Greater Prairie Chicken, and the Canadian Warbler.