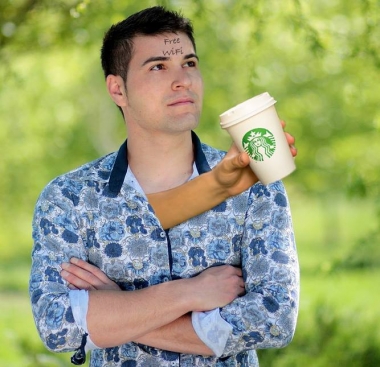 PETERBOROUGH – After a long fought battle, multinational corporation Starbucks has finally completed construction on a franchise located inside Dave, a Peterborough man.
"Dave was a tough market to get into," said Starbucks CEO Howard Shultz. "Not least because he's 5'10" and a latte machine takes up about half that space by itself, but, as always, Starbucks has found a way."
However, not everyone is happy about the new franchise. Local advocacy groups fear that this is just another step toward the gentrification of Dave.
"Dave used to be a vibrant part of this community," said Julia Nguyen, head of Keep Dave Weird. "We're concerned that this Starbucks could harm Dave culturally. Perhaps even more than he's been harmed physically."
"Plus this will completely drive away all independent coffee shops from the Dave market."
Despite strong backlash from the Dave community, officials say there was very little Dave could do to prevent the 13,560th Starbucks from opening inside his chest cavity.
"I wanted to help him out, I really did, but the zoning papers were all in order, the contracts had been signed, and, hell, they'd even made a charitable contribution to the mayor's reelection campaign," said city councilman Larry Feinstein. "I wish I could have kept that corporation out of Dave but, like Dave said when he came to my office in tears, 'I don't want to die over this'."
For his part, Dave came around after realizing he would be able to get a jump on the rush for pumpkin spice lattes, and his eyesight was restored.
Reports indicate that expansion into Dave is still ongoing. An American Apparel is said to be strongly considering leasing space in the pancreas and kidneys.
Photo by Samuel Smith.