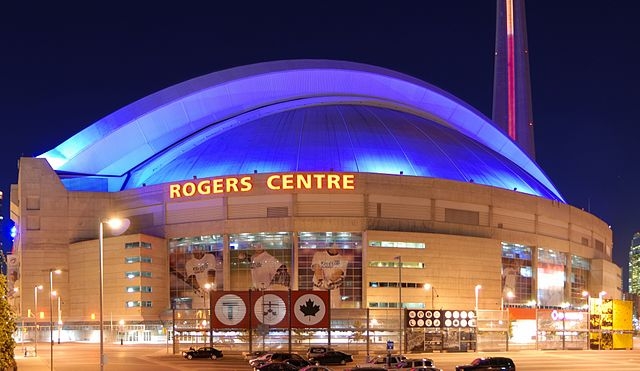 TORONTO – Having successfully rebranded Hockey Night in Canada from a beloved cultural institution into an unwatchable orgy of corporate synergy, Rogers Communications says it's finally ready to destroy its other major sports property, the Toronto Blue Jays.
"Hockey Night was the canary," explained CEO Guy Laurence. "Once we realized we could ruin Canada's favorite way to watch its favourite sport, without any discernible financial consequence, we knew the time had to come to start desecrating its only Major League franchise." 
Still, the challenge was daunting. The Jays forged a seemingly unshakable emotional bond with the entire country last summer, en route to the club's first AL East division title since 1993. Transforming that goodwill into a simmering cauldron of despair and contempt would require a truly first-class asshole.
"Lucky for me," said Laurence, "I'm surrounded by assholes."
Laurence assembled the company's finest hatchet men into one room, and presented them with a simple challenge:
"What's the worst thing you could possibly do to the Toronto Blue Jays?"
The answer, Laurence said, quickly became obvious:
"You turn them into the Cleveland Indians." 
From there, he added, the moves fell into place. Outgoing president Paul Beeston and general manager Alex Anthopoulous, whose bold trade deadline acquisitions of ace pitcher David Price and star shortstop Troy Tulowitski catapulted the Jays to the postseason, were replaced by Mark Shapiro and Ross Atkins, the architects of the Indians' decade-long run of mediocrity. Still, Laurence worried the moves weren't a sufficient "fuck you" to the Jays' loyal fanbase.
"That's when it hit me.  It's not enough to become the Cleveland Indians," he admitted. "We need to become the Cleveland Indians from Major League."
Taking a page from the 1988 film's plot of ownership deliberately tanking its team's chances of success through a series of penny-pinching moves, Rogers passed on the chance to invest less than 0.02% of its revenues to retain the services of Price. Revenues, it should be noted, that were significantly bolstered by the Jays success in 2015.
"If that doesn't tell our fans to go out and eat all the dicks, I don't know what does," boasted Laurence.
Still, for all Rogers' cartoonish villainy, Laurence regrets that no matter what his company does, it will never be able to ruin the crown jewel of Toronto's sports scene, the Maple Leafs.
"Someone already took care of that a long, long time ago."