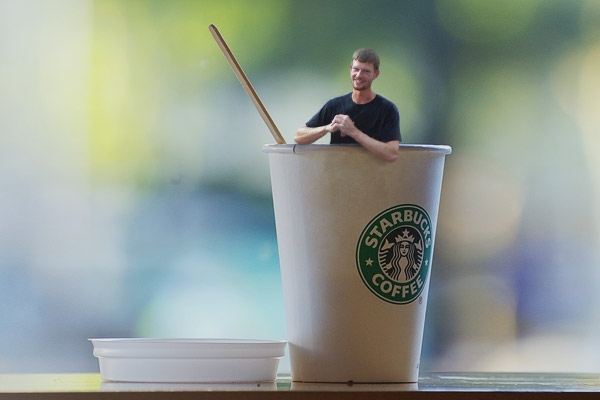 SEATTLE – Starbucks has announced the addition of a new beverage size to the Starbucks menu, one that is large enough for customers to scale, climb inside, and forget everything happening in the external world.
"We have long been proud to bring the joy of high-quality beverages and foods to Starbucks customers, keeping them energized and nourished whether they're working, commuting, or just savouring some me time," said Starbucks chief of Marketing Sharon Rothstein. "Now, we feel we can meet an even greater need of our customers, by allowing them to temporarily immerse themselves in warm, silent liquid, where nothing from the outside world—not a sound, touch, or thought— can ever get inside."
The new "venti3" drink, which is approximately 2 metres tall and 1.2 metres wide at the brim, is equipped with a straw sturdy enough for patrons to prop against the side and shimmy up before gingerly lowering themselves into merciful hot or extra-hot nothingness to which they can add the amount of milk, cream or soy that is just right for them.
Reaction from Starbucks customers has been overwhelmingly positive.
"On my commute, my venti latte has always helped me ignore the fact that there's an old lady that smells like listerine breathing down my neck and that I'm going to be late for a job that I don't even like," advised longtime customer Laura Prior. "But now that I have the option to climb inside a six-foot cardboard tube and dunk my head under the surface of a warm Columbian blend for as long as I need to, I completely forget they're there!"
Customers can also slip themselves into a biodegradable cardboard sleeve before climbing in, or bring an eco-friendly reusable one from home.
The cold beverage version of the cup has also become popular among retail and office workers on their lunch and coffee breaks, explained local store manager Tom Chase. "There's this one couple of ladies from the soap store that used to come in around 3, always complaining about how much they hated this mean boss they had. But now, when one of them gets mad, she just lowers herself into a frappucino to calm down. If it's a really bad day, our baristas are happy to squeeze on a fluffy topper of whip cream right over your head, so that not only can you not see the world, the world can't see you. You'll be fully protected behind your choice of cinnamon, nutmeg, or chocolate shavings."
The genesis of the new drink size came thanks to an overwhelming number of customer requests for a drink that would "stop life from feeling like life" and "make everything outside be like the inside of my mouth when I close my eyes and drink the drink."
In the wake of the product's success, Starbucks has announced plans to launch a new cake pop the size of the planet Earth, which will be fully habitable by 2050.