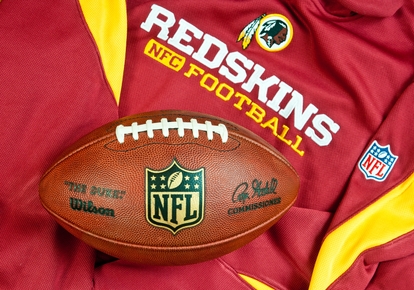 WASHINGTON, D.C. – After the federal patent office revoked the Washington Redskins team trademark due to the word being a racial slur, owner Daniel Snyder has filed a new trademark application for a football team whose name will apparently be a denial of the well established fact that millions of Jews perished during World War II.
"Yup, we're the Washington Holocaust Deniers now. Does that make you happy?" asked a defiant Snyder at a press conference held shortly after the application was filed.
"Next year we're going to score touchdowns, play solid defence, and argue forcefully that a crumbling Nazi Germany did not have the manpower or infrastructure in 1945 to execute anywhere near the number of people mainstream historians have claimed," he added.
Snyder apparently settled on the name after realizing that his other preferred team options, including the "Washington Wetbacks," the "D.C. Chinks" and the "Washington all Muslims are terrorists I don't care what the liberal media says" would also likely be struck down as slurs.
"Holocaust Deniers is not a slur. Not a slur. So what are you going to do now huh?" asked Snyder, once again in a manner suggesting there was no answer that could satisfy him.
The team's logo will apparently be of a young skinhead pointing to a chart showing Jewish population numbers before and after the war.
"My goal is to take something people love, like sports, and use it to make them feel sad and alone in the world, the way we should all feel," concluded Snyder.
At press time the Holocaust Deniers were number 6 on the Forbes list of most valuable professional sports franchises.