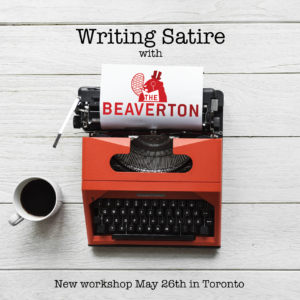 The Beaverton offers a series of Satire and Comedy Courses. Are you interested in The Beaverton hosting a workshop or event for your organization? Email staff@thebeaverton.com
INTRODUCTION TO SATIRE WRITING:
Want to write satire like the brilliant minds behind The Beaverton?* Learn the essentials of satirical news in this interactive workshop. The editors of The Beaverton will teach you how to create great headlines that grab readers' attention, as well as hilarious articles that expand and heighten your headline. Attendees will work with instructors to get hands on experience at each element of satire writing.
*We can also teach you how to write descriptions about yourself in the third person.
Next Workshop: May 26th in Toronto.