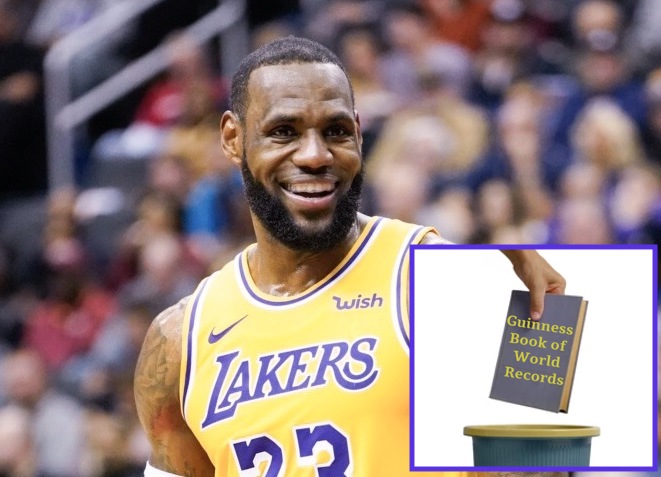 LOS ANGELES – Staff at Guinness World Records are scrambling to publish an up-to-date version of their record book every time LeBron James breaks his own all-time scoring record.
"It was so exciting when LeBron broke Kareem Abdul-Jabbar's record by scoring his 38,388th point. We couldn't wait to update the record book," exclaimed official adjudicator Rebecca Taylor. "But then he scored another point. And another. Because it's basketball, and they score a lot of points."
"Eventually, we were all just down there at the Crypto.com Arena screaming at him to slow down," added a frazzled Taylor.
After James scored, Guinness immediately sent the updated edition of the record book to print, as is customary whenever someone breaks a world record. But, as one Guinness official wearily noted, "it turns out NBA players score a lot more often than that human lizard guy gets another tattoo".
"It's a lot more than just changing one number. We have to fix the date and the details of the game, and we have to organize a new photoshoot with LeBron for the cover," explained Taylor. "And don't get me started on re-taking the group picture of every record holder for the back of the book. The beard of bees guys is impossible to book!"
Despite the logistical difficulties, Guinness insists they are up to the task. Staff have rigged the smoke alarms in the office to go off every time James scores another basket, which has unfortunately turned Lakers' game days into a serious occupational safety hazard.
"Guinness does everything we can to ensure our book is 100% up-to-date," said editor Craig Glenday. "It's why we awarded ourselves the record for most up-to-date record book."
Reached for comment, LeBron James mentioned he'd love to set another world record someday, and plans to announce his next accomplishment in a live televised special.
"The Decision: Part 2," James said, "will focus on my choice between breaking the NBA all-time scoring record again, and growing the world's largest onion."