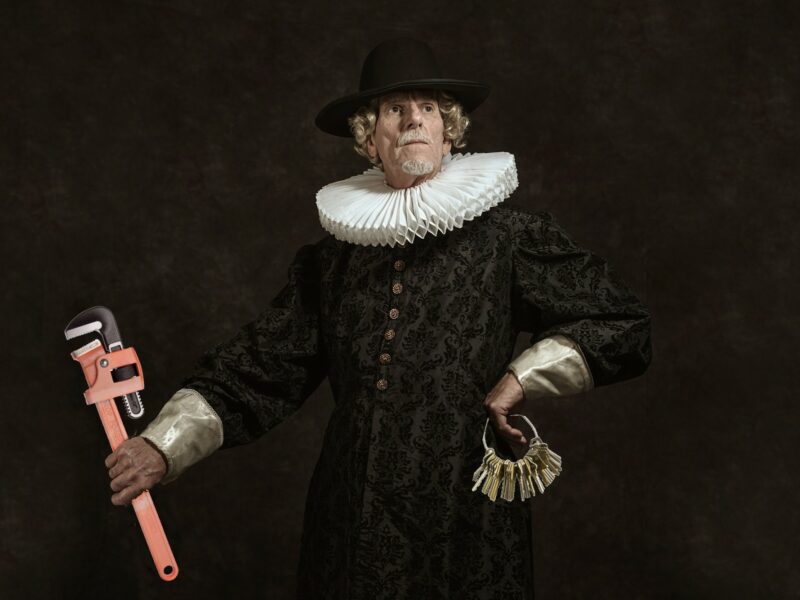 VICTORIA — Proctor Properties Inc has recently appointed George William Sherston-Phipps Tollemache Montesquieu III of Roxborough as its Maintenance Viscount for the Regency Landing apartment building, and his illustrious tenure is beginning with an urgent request to repair the building's leaking shitter pipes.
"With great pomp and esteem," Montesquieu said in his inauguration ceremony, "in the sight of God and the King, I forthwith assume the duties and responsibilities of caring for this three story, forty-six unit building whose pedigree dates back to the stucco apartment boom of the 1970s."
He was then formally handed his ring of keys, bearing a tag indicating which of them will let him into the shared laundry room, where a foetid aroma has accumulated due to a persistent drip of piss.
"I'm quite chuffed that our residence has acquired an appropriate superintendent," said longtime tenant Irene Bunch of unit 204. "Mayhap he'll utilise his ceremonial cutlass to rid the building's dustbin padlock of its chewing gum."
Regency Landing, located in the Quadra Village neighbourhood, is one of the city's most exclusive apartment buildings, as evidenced by its name, stencilled on the front window with a minimum of missing letters. Its amenities include burgundy carpeted hallways (lightly stained), mostly working lights in the lobby and a mere third of its units being infested with silverfish.
"The residents submitted numerous requests within my first hours on duty," Montesquieu said, "but my top priority is to secure the PVC pipes and caulk needed to seal the conduits excreting our tenants' excreta, which at least masks the stairwell's ingrained cigarette stench."
A cache of the necessary supplies has been located in the sub-basement of the nearby Fontainebleau Arms. Montesquieu seeks to acquire them by means of a combination treaty offer and marriage proposal to the building's manager, Marquess Fernsby Wyndham-Lloyd, who happens to be his aunt.