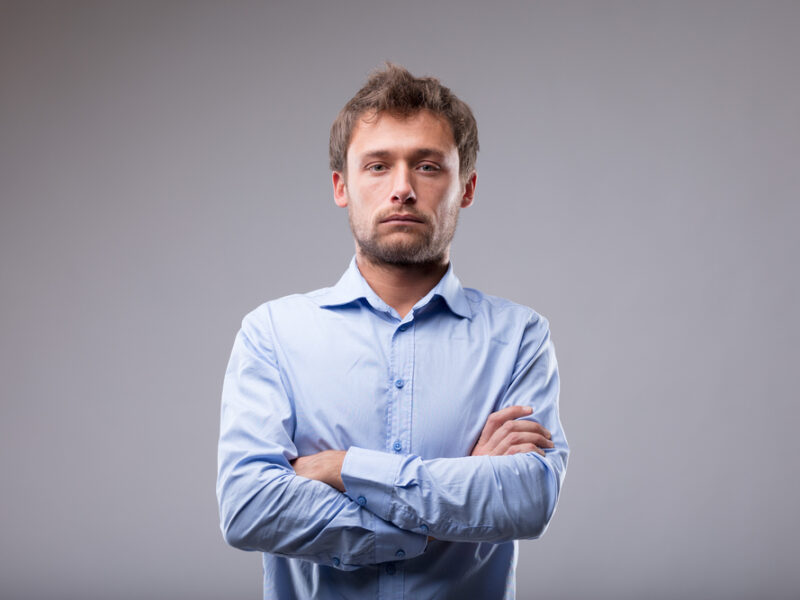 HAMILTON, ON – Local serial killer David Mark Thompson has announced an immediate work stoppage pending a more favourable contract from Netflix, Inc., producers of the popular true-crime series about his infamous reign of terror.
A throng of reporters gathered at the end of the driveway of a nondescript home on a quiet street today, where Thompson, subject of recent acclaimed docu-series The Butcher of Burlington, held court regarding his combative relationship with the streaming giant. Thompson's refusal to commit more attention-grabbing heinous murders threatens to derail the viral hit that has enthralled critics and true-crime enthusiasts alike.
"I don't want to be here, today", he began, in what would prove to be a wide-reaching, at-times testy, exchange with the assembled press. "I'm here because those charlatans at Netflix are counting piles of cash made off my blood, sweat and tear-filled jars-in-my-freezer. Meanwhile I, and my dark-passenger, receive a pittance".
The hit series combines witness interviews, crime scene footage, and dramatic reenactments that document the rise of a simple electrician turned depraved sociopath, whose down-home good looks have lead Twitter to dub him "The Butch" and "Sexy-axey". The series has remained the number one streaming program in the nation for more than a month, a fact which Thompson says alone proves he's not being properly rewarded.
"They have no problem throwing money at Adam Sandler, and I get it, I loved Uncut Gems; but they're also throwing it at stuff you've watched a thousand times over and mostly just run in the background while you work. I'm not looking for Sandler money, I'm just looking for Samberg money."
Thompson was quick to reject any assertion made by fans of the series that their latest binging-obsession was being sabotaged by greed. "This isn't just about me – I know I'll never have to worry about having enough money on hand to replace my floorboards, but I also have to think about the future, and those I support. What about the rising cost of cement? What about my apprentices? My copycats?"
"If I were gone tomorrow, who's going to feed my pigs?" Thompson mused, never once displaying a hint of human emotion.
Posited with the notion that Netflix insiders have suggested Thompson has "faded", and was no longer capable of generating the kind of buzz and declarations-of-love that he did early in his rampage, Thompson bristled. "Do you reporters think I've faded? How many of your bylines are thanks to my letters? How many cryptographers have you hired just to crack my ciphers? Do you know how hard it is to come up with a decent cipher? I'm not a mathematician!"
Fuming, Thompson continued "Every victim I've given you journalists is headline worthy – no sex-workers, no migrants, only 100% upper middle class white girls! You've got these young hotshot serial killers taking it easy, hanging out in alley ways and public housing, while I'm out there in broad daylight, scoping out pilates studios! The only colour on my victims is from spraytans!"
When a reporter from the Sunday Mail attempted to query Thompson about some of the details of a reputed compensatory offer from executives, he quickly waved it away with a terse "Next question." followed by "No, I mean NECK's question, I want to answer a question from that guy, the one with the smooth, slender neck".
Thompson's final salvo was directed at Netflix executives who have suggested the public would be just as entertained by "old favourites" like Jack the Ripper, or The Jazzman.
"Fine, I'd like to see how many people want to watch archival still images and scratchy audio tapes. I'm sure streaming viewers will love endless artist's conceptions of 19th century London."
Thompson concluded, "Maybe I'll just take my brief glimpses on CCTV and voice-modulated calls to detectives over to Apple+, I hear they need something to fill the void until Severance season two".